5 facts about book award scams you won't hear anywhere else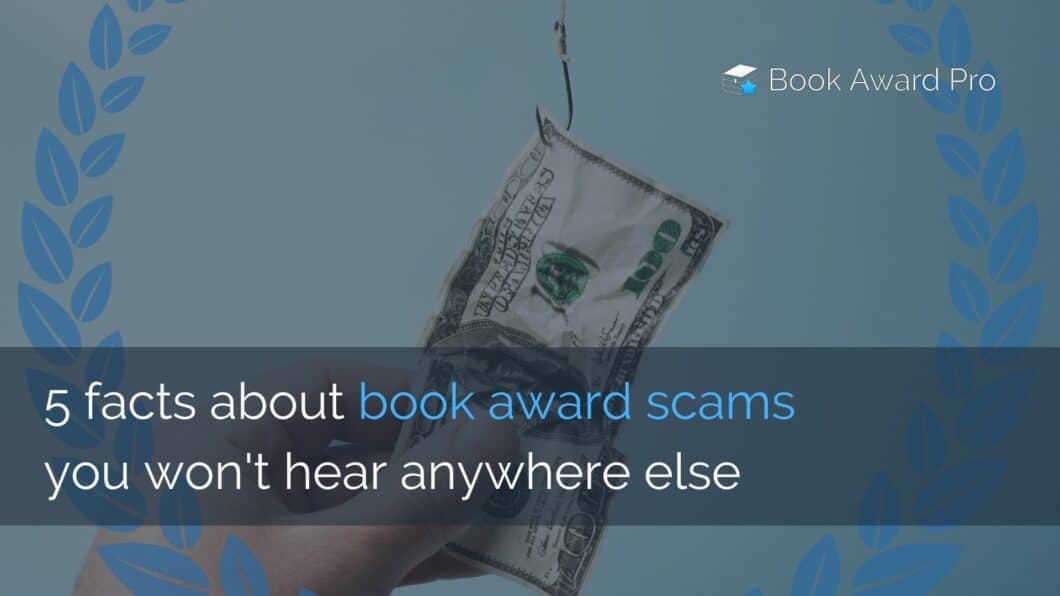 July 2, 2023
Book Award Pro

You might be cautious about book awards due to fear of scams. That's understandable, especially if you're new to the world of author accolades.
Book awards are incredibly beneficial for every author, and you deserve to feel confident in the book awards you choose to pursue.
As the leading expert in book awards and reviews, Book Award Pro tracks and researches more accolades than anyone in the world. We're here to reveal the truth about book award scams you won't hear anywhere else.
1. You might have the wrong definition of award scam
A scam is a fraudulent or deceptive act or operation meant to trick someone. To put this in the context of book awards, consider this example:
A book award calls for submissions and requires an entry fee. You pay the entry fee and anticipate the announcement of results. Weeks go by, yet you hear nothing. You email the organization and receive no reply. The announcement date comes and goes without any news of winners. The organization seems to have disappeared without fulfilling their promises.
This a very rare example of an actual scam, but demonstrates the importance of thorough research. Some authors may consider an award a scam if it isn't the right fit for their book, but this isn't the case.
Inevitably, there are some legitimate awards that won't be the perfect fit for your book. Although a particular award may not be right for you, that exact same award could be extremely valuable for another author.
Book awards offer varying levels of value, professional recognition, and benefits, and are meant to appeal to different kinds of authors. As long as an award organization follows through with its promises, it's a legitimate (and valuable) accolade.
2. Actual scams are far less common than expected
There are many thousands of book awards from around the globe, researched and monitored by our technology daily. We continuously add new awards to our system and are proud to maintain the world's largest database of legitimate author accolades.
With all of those awards, we have only ever come across two actual book award scams. Yup, just two in the many years we've been in business.
As soon as we uncovered each as a scam, we blacklisted them from our system, informed industry organizations, and helped authors recover their resources. Every day we see new award opportunities coming to the market, and we never see the volume of scams some people talk about in the industry.
3. Paying an entry fee doesn't mean it's a scam
There are costs associated with running an award (just like any organization) and simply because you have to pay an entry fee doesn't mean it's a scam.
Entry fees go toward ensuring the award is run properly and paying those who work at the award organization. The fee may also go toward hosting the organization's website, promoting the award winners, and other benefits for the authors who submit for the award.
Don't feel put off by an award that asks for a reasonable entry fee to be submitted. Instead, aim for accolades that are within your budget and provide genuine value for your book.
4. Awards with multiple options are safe
Every award is unique. That's a good thing because awards create opportunities for authors of all kinds. Just because a book award has many genre categories or several rounds of entries during the year doesn't mean it's a scam.
Some award organizations host more frequent submission cycles to keep the buzz around the award (and winners) growing. The more activity and interest an award creates, the more that award can bring value to your book. This means more marketing for your book without any additional ongoing effort on your part.
5. Not all awards offer monetary rewards
And that's okay.
Don't feel jaded if an award you won didn't offer a cash prize. The benefit of becoming an award-winning author is vastly more significant than the money you might make from the award itself. As an award winner, you gain professional recognition, use story marketing to make your book stand out from the crowd, and open the door to future literary possibilities.
Find legitimate, valuable awards with Book Award Pro
The best way to start winning legitimate awards tailored to your book is to sign up for Book Award Pro. We've done all the research to ensure each award on our platform is authentic and can help you reach your unique author goals.
Though book award scams aren't as common as you previously thought, make sure you still keep an eye out for them. If you ever find an award opportunity that seems a bit fishy, contact our team right away.
Like what you see?

Share with a friend.