Do book awards help you sell more books?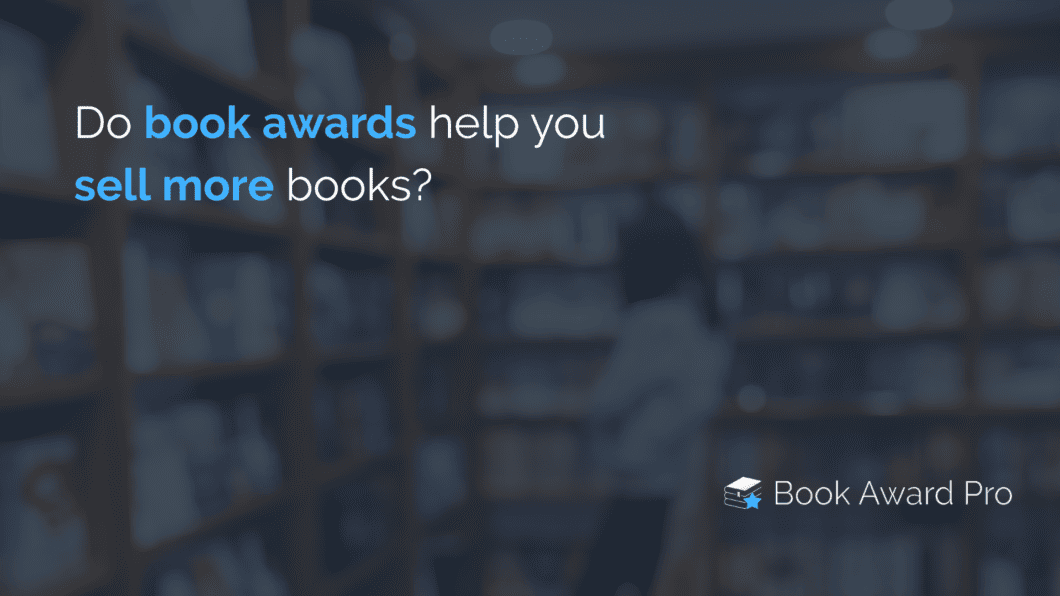 May 30, 2023
Book Award Pro

From gaining the attention of literary professionals to standing out to readers and establishing yourself as a notable author, the benefits of book awards span far and wide. However, there is one benefit of book awards we'd like to demystify: do book awards help you sell more books? Read on to learn if (and how!) book awards can help you sell more books.
Do book awards help you sell more books?
As Book Award Pro, you surely expect us to say a resounding "yes". Well, you'll be surprised to hear us say: NO! Operating in a silo, book awards do not automatically increase book sales. While authors may see an uptick in sales after winning an award, it's not a guarantee. Much like reviews, the truth is that how your award impacts book sales is directly related to what you DO with your win.
Simply winning an award isn't enough to sell more books. Instead, think about the ways you can make the most of your win when it comes to book marketing.
One important note before we get started: You don't have to wait until you've won an award to start promoting your book and increasing book sales. With story marketing, you can generate interest and reach more readers along every step of the award journey.
Here are some easy-to-follow steps to maximize your win's marketing impact and boost book sales:
1. Make your win visible and eye-catching
Shiny book award seals are extremely eye-catching to readers, retailers, and publishers alike. For this reason, it's important to make your win as visible as possible. If you're able to add your award seal to the cover of your book, do it! Be sure to add your seal to physical copies of your book, as well as cover images in online listings.
Book awards are an extremely powerful way to immediately excite and impress readers. The more attention your book receives from impressed, enthusiastic readers, the more likely you are to sell more books.
2. Add your award to your professional correspondance
An important detail that authors may overlook is the addition of your new award-winning status in your professional correspondence. This includes your email signature, author bio, and business cards.
How does this help you sell more books, you ask? Publishers, literary agents, and retailers hold awards in high regard when considering authors with which to collaborate. The more visible your notable status as an award-winning author is, the more likely you'll gain the attention of industry leaders that can provide you with sales-boosting opportunities, like publishing deals, book tours, and agency contracts.
3. Run a promotional campaign on social media
Social media is one of the fastest, most effective ways to reach thousands of readers across the globe. And, it's free! With millions of users on platforms like Instagram, Facebook, Goodreads, and Twitter, and automated tools like the Story Marketing feature from Book Award Pro, promoting your book has never been more accessible.
During each step of your award journey (including wins!), consider running a promotional campaign across your social media accounts. Be sure to include a link to your book listing so impressed users can turn into happy customers.
4. Reach out to local bookstores for events
In-person methods of marketing are still an effective way to leverage your book award win. Reach out to bookstores in your community to discuss the possibility of a promotional event. Let them know you've recently been honored with a book award and would love to be considered for a book signing, reading, or Q&A session.
This approach allows you to create authentic, lasting impressions with readers, which can lead to valuable long-term buyer relationships. Not only could you see an increase in sales at the event itself, but you may also develop lucrative connections with loyal fans for years to come.
5. Run a celebratory sale
After winning an award, running a sale to celebrate your accomplishment is a great way to give back to the readers who've supported you along the way. Consider offering a discount, a buy-one-get-one sale, or a free gift with purchase. You can promote your award and the consequent sale on social media platforms, in newsletters, and in your blog posts.
Hint: Don't disclose an ending date for the sale! This creates a sense of urgency among buyers and can persuade them to add your book to their cart right then and there.
Are all book awards created equal?
When it comes to selling more books, some awards may be more impactful than others. It's true that famous or well-known book awards can put your book on the map in a big way. However, no matter the size or prestige of the award, there are real, actionable steps you can take to use your award (and the entire award journey!) to market effectively and sell more books.
Ready to win awards and sell more books? Sign up for free, start winning, and kickstart your book sales today.
Like what you see?

Share with a friend.