Extra Awards: More ways to win book awards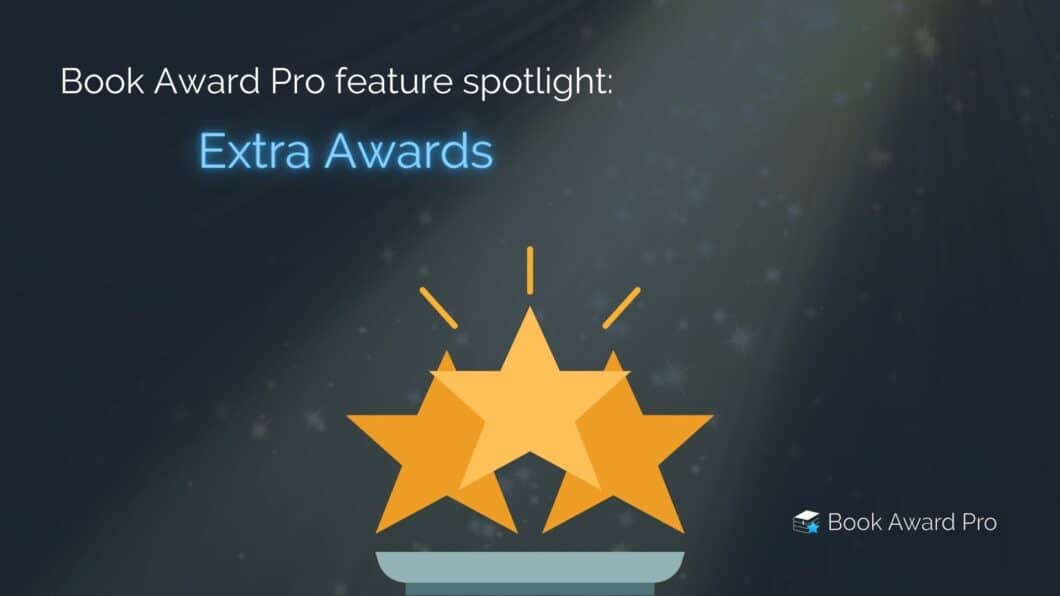 June 16, 2023
Book Award Pro

We'll let you in on a little secret: there are ways you can win even more awards for your book. In this Book Award Pro feature spotlight, we'll discuss Extra Awards: the feature that widens your awards landscape with additional ways to become an award-winning author.
Extra Awards: More ways to win book awards
Even on the Free plan, Book Award Pro offers access to thousands of award opportunities. Ranging across categories, genres, publication types, and subject matter, there are seemingly endless opportunities to supercharge your career as an author.
The Extra Awards feature is a tool designed to match your book with awards for anything other than its content. Just like the Awards feature, Extra Awards perfectly matches your book to awards based on genre, style, publication date, word count, and more. The only difference is the type of awards with which you'll be matched.
The curated contests provided to you by the Awards feature judge books based on their content. The curated contests provided to you by the Extra Awards feature judge books for things like cover art, debut author, audiobook, and more.
Which plans offer Extra Awards?
The Extra Awards feature is available on the Plus and Pro plans. Learn the difference between the two and discover the other features available on both plans here.
What kind of awards can I win with Extra Awards?
With the Extra Awards feature, there's no limit to the ways you can win. Here are some of the awards you can pursue with Extra Awards:
There is a plethora of awards specifically for audiobooks. If you have an audio version of your work, the Extra Awards feature can help you discover award matches specifically curated for your book.
Judging for audiobooks will consist of content-based critique, but things like narration and voice acting are also considered.
Cover art is another interesting award category that can help you win even more accolades. Contests may call this award "Best Cover Art", "Best Cover Design", or simply "Best Book Cover".
When considering books for cover art awards, judges often assess things like style, use of color, and originality. Regardless of your book's genre or style, there are cover-focused awards waiting to be won.
For newly published writers, debut author awards are an excellent way to begin your career on an award-winning note. For new authors, awards, reviews, and effective marketing strategies are the most powerful tools you have to jumpstart your career. Debut author awards are yet another accolade you can use to achieve author acclaim.
"Best Illustration" is a unique, valuable award opportunity for books that include illustration. This can include graphic novels, comic books, children's books, and more.
For authors who worked with an editor, "Best Editing" is an often overlooked accolade. Many contests offer recognition for excellence in editing.
Submitting to editing-focused awards may require different submission materials than other types of awards. Either be sure you understand and can provide all you need for judging, or let Book Award Pro handle submissions for you.
Do you need Extra Awards to win author acclaim? No. The Awards feature available on every Book Award Pro plan will suffice. Does the Extra Awards feature position you to win the most recognition, impress the most readers, and open the most doors to career-changing opportunities? YES!
The truth is: winning a wide array of awards helps tell the story of your book's excellence as a whole. The more categories and types of awards you win, the more impressive your book will appear to readers and industry experts.
How do I access Extra Awards?
If you're already on the Plus or Pro plan, here's a step-by-step guide to help you access the Extra Awards feature:
1. Log into your Book Award Pro account
2. Select "View Book Awards" from your Book Awards dashboard
3. Scroll down to "Extra Award Matches" for the book profile you've selected
Ready to unlock an endless world of award opportunities? Compare plans, get in touch with our team, or sign up to access Book Award Pro's powerful Award, Review, and Story Marketing features (including Extra Awards!)
Like what you see?

Share with a friend.