Book Awards
Awards curated for your book
Book Reviews
Reviews curated for your book
Story Marketing
Easily share on social media
Expert Research
Guidance for every match
Targeting
Decide which awards and reviews are best
Extra Awards
Debut author, audiobook, book cover, illustrations, and more
Award Submission
One (1) expert award entry done for you every month
Track Results
Get all the benefits your book deserves
Flexibility
Switch plans or cancel any time
Book Awards
Awards curated for your book
Book Reviews
Reviews curated for your book
Story Marketing
Easily share on social media
Expert Research
Guidance for every match
Targeting
Decide which awards and reviews are best
Extra Awards
Debut author, audiobook, book cover, illustrations, and more
Award Submission
One (1) expert award entry done for you every month
Track Results
Get all the benefits your book deserves
Flexibility
Switch plans or cancel any time
Book Awards
Awards curated for your book
Book Reviews
Reviews curated for your book
Story Marketing
Easily share on social media
Expert Research
Guidance for every match
Targeting
Decide which awards and reviews are best
Extra Awards
Debut author, audiobook, book cover, illustrations, and more
Award Submission
One (1) expert award entry done for you every month
Track Results
Get all the benefits your book deserves
Flexibility
Switch plans or cancel any time
Book Awards
Awards curated for your book
Book Reviews
Reviews curated for your book
Story Marketing
Easily share on social media
Expert Research
Guidance for every match
Targeting
Decide which awards and reviews are best
Extra Awards
Debut author, audiobook, book cover, illustrations, and more
Award Submission
One (1) expert award entry done for you every month
Track Results
Get all the benefits your book deserves
Flexibility
Switch plans or cancel any time
Book Awards
Awards curated for your book
Book Reviews
Reviews curated for your book
Story Marketing
Easily share on social media
Expert Research
Guidance for every match
Targeting
Decide which awards and reviews are best
Extra Awards
Debut author, audiobook, book cover, illustrations, and more
Award Submission
One (1) expert award entry done for you every month
Track Results
Get all the benefits your book deserves
Flexibility
Switch plans or cancel any time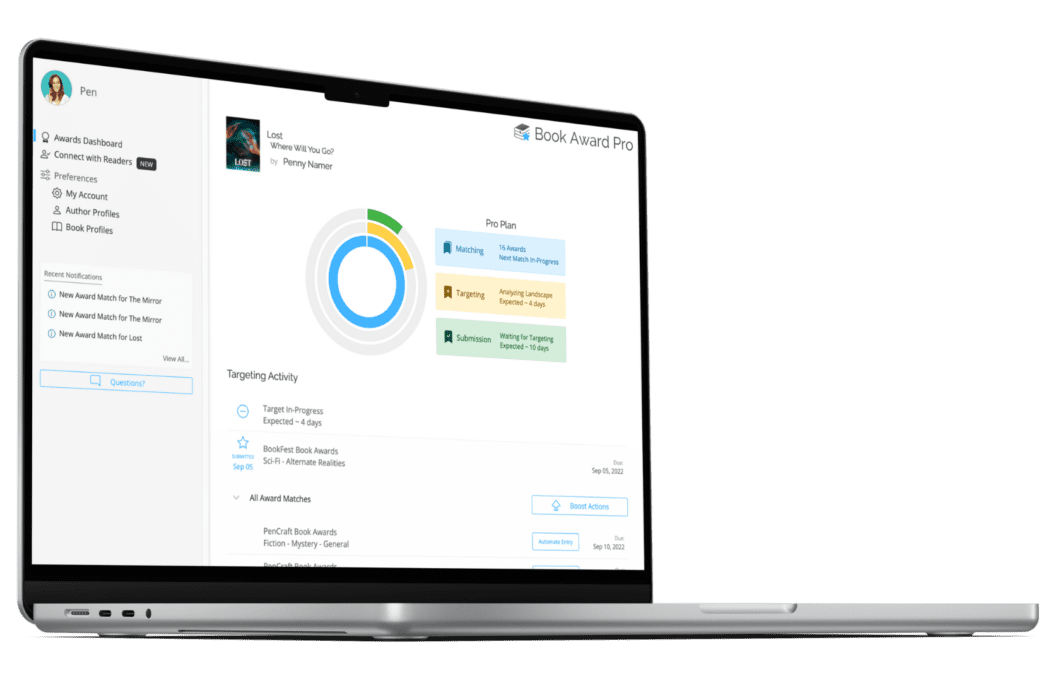 Learn how each plan helps your book.
From Pro, where we handle everything for you, to Essentials, for authors who prefer to DIY, there is a plan to suit your goals.
See more details about the features included with each plan.
Authors rave about our fast, personal support. Try it for yourself and
start a conversation
with our team.
Are you a publicist, agency, publisher, or industry expert?
Give your authors the validation of awards and the impact of story marketing. Everything is handled for you by the power of Book Award Pro and is branded for your business.
Easily keep relationships fresh and amplify your work.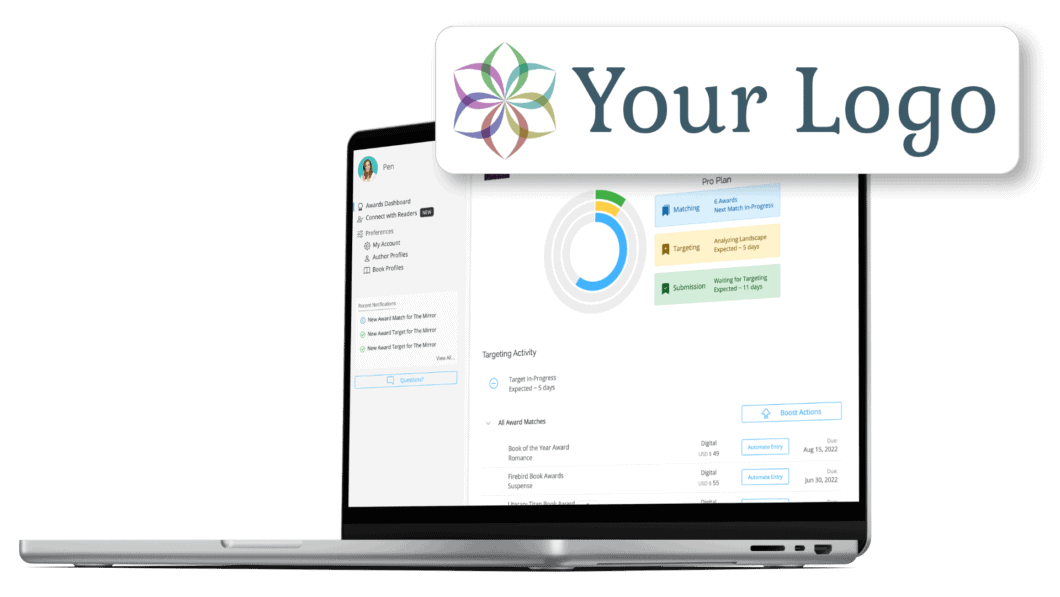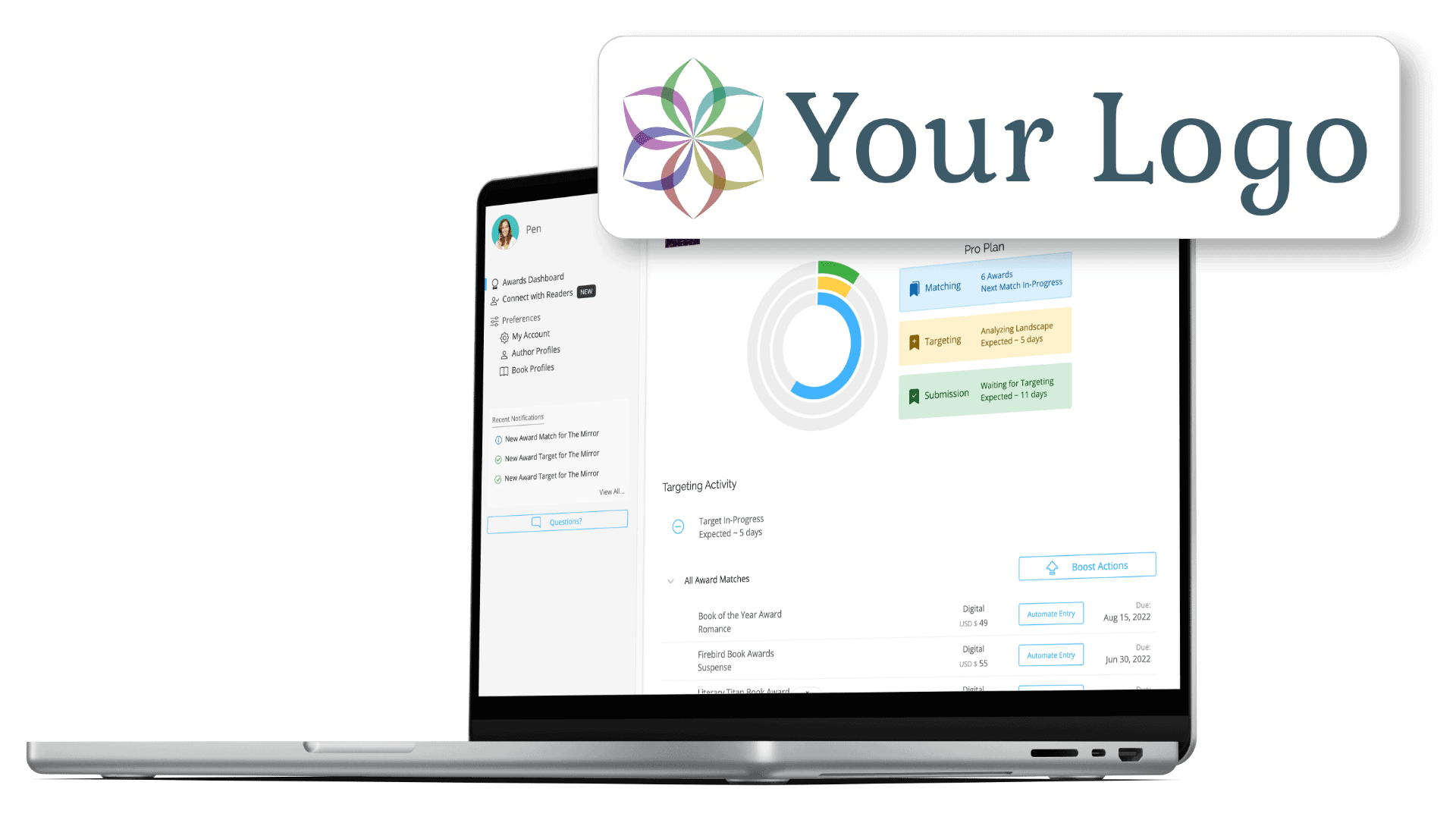 Not sure which plan is best for you?
We have a plan for every author, book, and budget. See our blog article about the differences between each plan.
Our team is here to help. It's easy to get in touch, and we answer every question personally.