Book Award Pro monitors thousands of awards, every day, to match ideal opportunities for your book. Nobody else even comes close.
Our technology is the gold standard. Authors using our Pro plan have a 68% average win rate. Without Book Award Pro, win rates are less than 9%.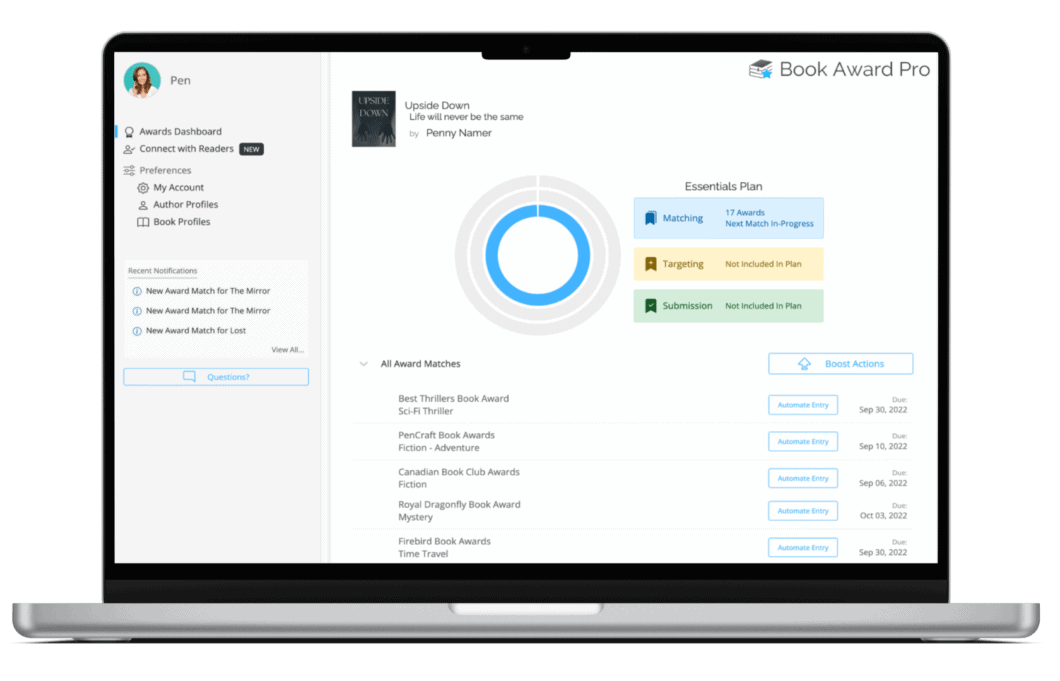 Find the right opportunities for your book
Save hours of time by eliminating long, confusing lists. Book Award Pro researches thousands of awards and automatically matches the ideal opportunities for your book.
Your dashboard only displays award opportunities that are relevant now and fitting to the unique qualities of your book. In other words, all the searching, sorting, and filtering is automatically done for you.
Our award matching technology works for your book every day, and you can expect to see a few fresh award opportunities to consider each week.
Included with Pro, Plus, Essentials, and Free plans
Organize all the details for every award
Every award opportunity has different requirements and details.
When is the due date? How much is the entry fee? When can you expect winners to be announced? ...and so much more.
Book Award Pro handles all of this for you with curated research to guide you in learning more about each award match.
Included with Pro, Plus, and Essentials plans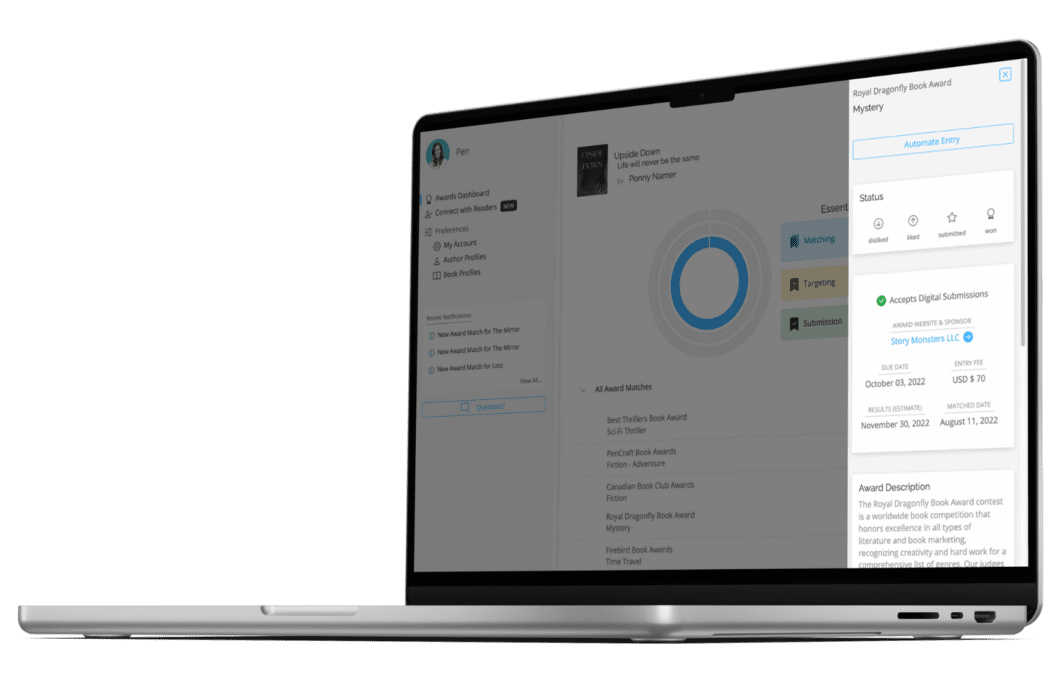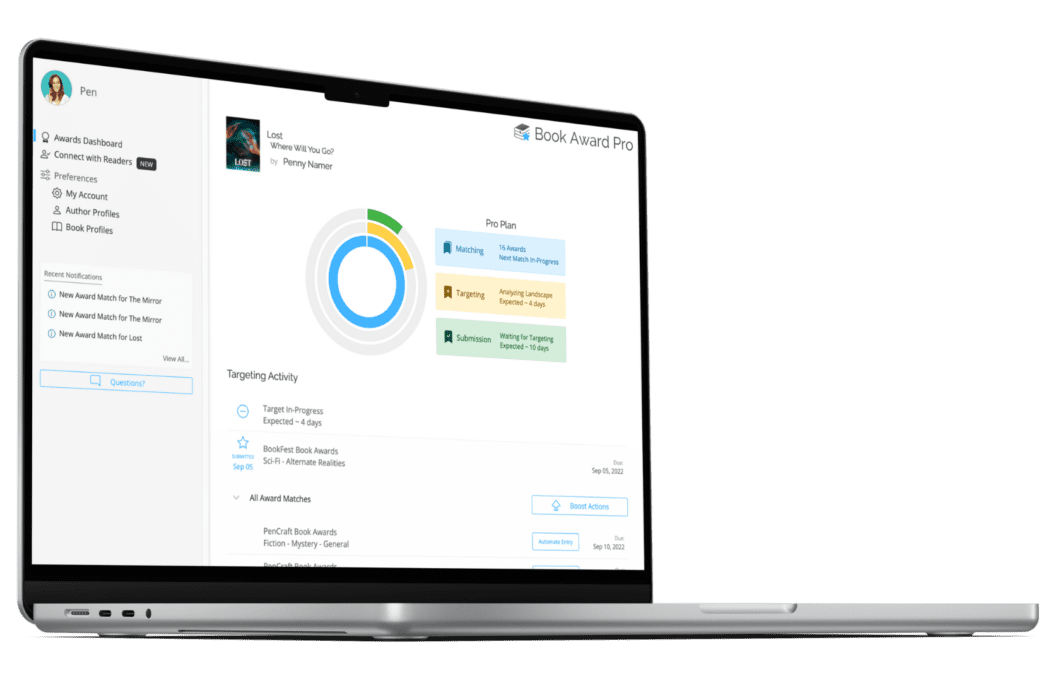 Pinpoint which awards will have the best results
Award Matching presents many exciting opportunities. But how do you determine exactly which ones will create the best results? You want to save your time and budget only for things that matter the most.
Our Targeting technology analyzes your awards landscape, millions of data points, to determine the one award opportunity which is most valuable for your book at any given time.
You do not need to deal with any of those technical details; Book Award Pro does this all automatically for you.
Included with Pro and Plus plans
Submission and Management
Navigate entries for award wins and benefits
Each award has different requirements and nuances for judging. Every tiny detail matters to make your book stand out. We use our vast experience to manage the entire process for you, from start to finish.
Book Award Pro crafts your nomination to be ideally presented for an award's specific requirements. Our service includes preparing entry documents, verifying research, paying the award's entry fee, and completing the submission process — all handled for you.
We also track the progress of your awards journey to ensure your book receives all the attention and benefits it deserves.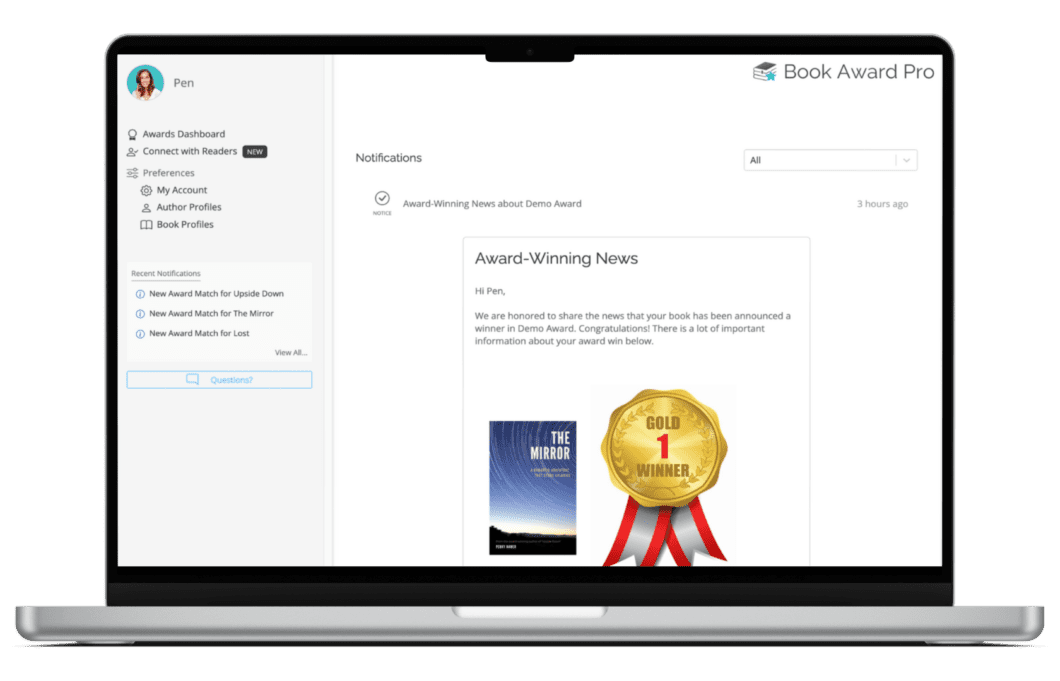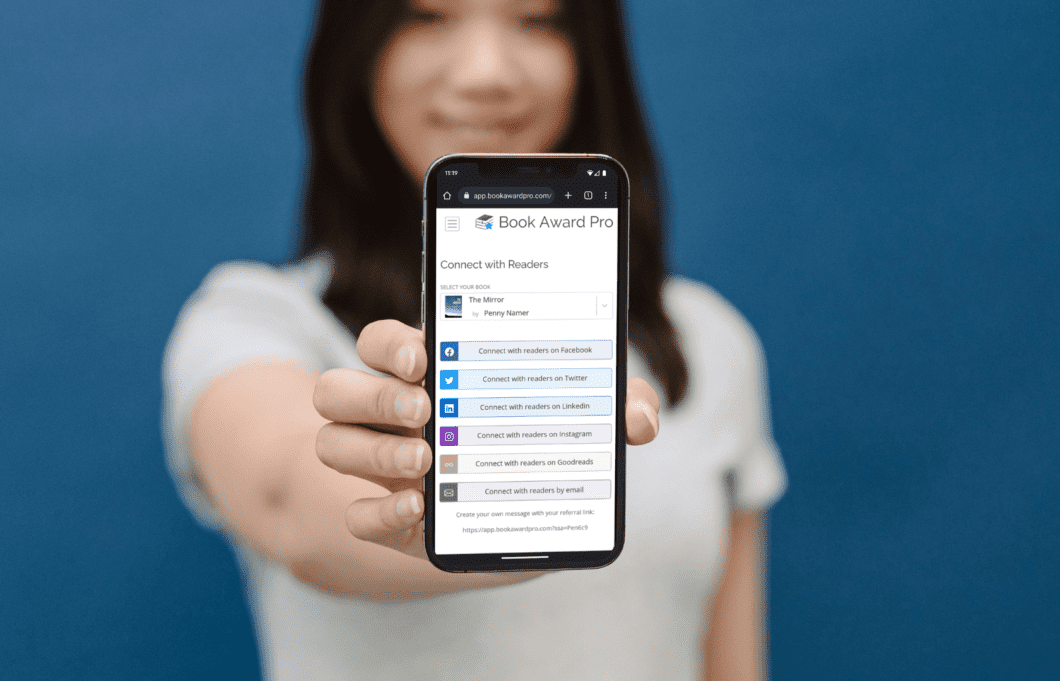 Grow book sales with story marketing and awards buzz
Every step of your awards journey — not just the wins — holds valuable growth and creates excitement for your book through story marketing.
We understand you are an author, not a marketer. Story marketing is the modern, approachable way for authors to get discovered, win validation, and sell more books.
From automatically creating social media messages, to helpful guides for growing your audience, Book Award Pro give you the tools to take charge of your book's success.
Included with Pro, Plus, and Essentials plans
Authors rave about our fast, personal support. Try it for yourself and
start a conversation
with our team.