Awards and reviews: The ultimate guide to better book marketing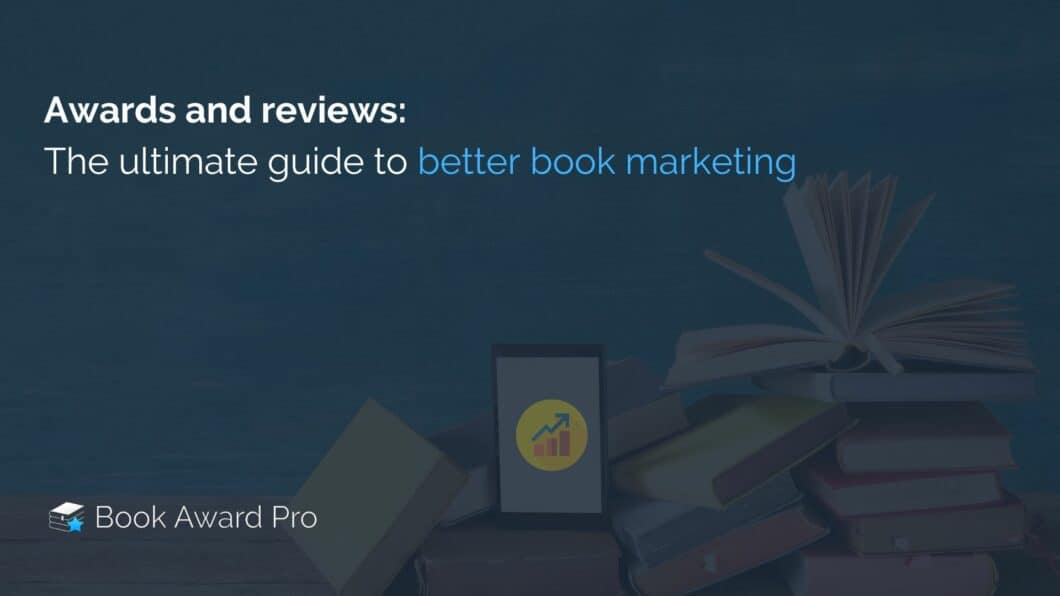 June 6, 2023
Book Award Pro

You did it. You wrote a book. Now, you probably want people to read it. Book marketing is an essential process to get your book in front of readers, capitalize on the buzz around your work, and make career-boosting connections in the literary world. Sounds easy enough, right?
The truth is, book marketing (especially in today's publishing landscape) can be a time-consuming, complex, and downright difficult project for many authors. Because of this, authors may stifle their book's success by skipping book marketing all together.
At Book Award Pro, we want your book to reach its greatest potential. That's why we've put together this ultimate guide to using book reviews and awards to make book marketing simpler, less time-consuming, and more effective than ever before.
Book marketing includes promotional and publicity efforts to draw attention to your book and ultimately increase sales. All authors, from independent to those working with a publishing deal, can benefit from marketing to widen their book's reach.
Traditionally, marketing methods have included press releases, paid advertisements, attending book fairs, and working with professional book marketers or publicists. While these methods can be effective, they're often expensive and don't guarantee author success.
You may have noticed we didn't mention book awards or reviews as traditional methods of promoting your book. That's because they aren't. Leveraging accolades to hook reader attention, position yourself as a notable author, and increase your book's visibility is a new approach to book marketing. It's also the simplest, most effective approach, but more on that later.
Why should you market your book?
The reasons for marketing a book likely depend on your goals as an author. Do you want to land a deal with a renowned publishing house? Are you hoping to quit your day job and become a full-time author? Maybe you're an expert in your field and want to earn respect as a notable author on the subject.
Whatever your goals, marketing your book in a way that's most compatible with your unique situation is the first step toward success. For example, if you have a decent budget, you might consider hiring a publicist to help market your book and connect you with leaders in the industry. If you're working with a smaller budget, you might consider reaching out to local bookstores to inquire about holding a reading or book signing.
The universal nature of book awards and reviews is where they get their marketing power. In either of the scenarios above, accolades signal to both readers and industry decision-makers that your book is worth reading, buying, and promoting.
How to market your book with awards and reviews
Marketing your book using reviews and awards can be a surprisingly simple process. Consider these steps to start leveraging your accolades for effective marketing:
1. Build your author platform
Before you can begin marketing your book, you'll have to ensure you have an author platform on which to connect with readers. Professional author websites are a great place to start. You can follow this tutorial to learn how to set up your author site.
In addition to an author website, consider signing up for Goodreads. Goodreads is a great platform for authors looking to grow in their career. You can create an author profile, become easily searchable by popular keywords and genres, and link to your book's sales page.
Finally, make sure you have active author accounts on social media. These should be separate from your personal accounts. Try to use as many of the main platforms as possible: Instagram, TikTok, LinkedIn, Twitter, and Facebook.
Be sure to create a regular post schedule, measure your results, use popular hashtags to promote organic traffic, and focus your resources on the platform that performs best for you. You can also follow and interact with other authors, publishers, and literary experts to build your following.
Now that you have an author platform, it's time to begin pursuing accolades to use as shareable content for your readers. Research book award contests and review programs to find opportunities that fit your book's characteristics. Different opportunities have different requirements, so it's important to review these details carefully to ensure they align with your book.
Common requirements among book award contests and reviews include:
Genre
Length
Publication date
Publication type
A simple Google search for "book award contests" or "get my book reviewed" can lead you to some opportunities, but you'll need to invest considerable time digging and sorting through lengthy lists.
If that sounds like too much of a hassle: consider trying the Free plan offered by Book Award Pro. It automatically curates a list of accolades for which your book is eligible from the world's largest database of legitimate book awards and reviews.
3. Enhance your author brand
As you begin adding impressive book reviews and awards to your collection of accolades, it's time to begin using them to enhance your author brand. Include "award-winning author" in your email signatures, on your business cards, in your social media bios, and on your author website. You can also add any award seals or stickers to your book's cover.
For book reviews, consider adding catchy snippets from your best reviews to your book cover, Amazon listing, and author website.
4. Implement a modern story marketing strategy
Another impressive part of using awards and reviews to market your book is that you can begin doing so immediately, even before you win an award or receive a review. You read that right, even an award you don't win is a valuable opportunity to bring visibility to your book. Here's an example to help you visualize the process:
1. You decide to submit your book to an award contest.
2. You create a post on Instagram, Facebook, and Twitter to announce your book's nomination for a new award. Your readers are excited, engaged, and looking forward to the award announcement. They like your post, leave congratulatory comments, and bring new readers to your author accounts.
3. You receive a notification from the awarding organization. Your book has been selected to move forward to the next phase of judging!
4. Again, you share this exciting news across your social media accounts and receive likes, comments, shares, and new followers. Not only do readers take notice of your book's success, but literary agents and publishers scouting for up-and-coming authors are also impressed by your effort to market your book.
5. The award results are in. Unfortunately, your book wasn't selected as the top Grand Prize winner. But, you were listed as an Honorable Mention winner, which is a formal, professional recognition of your book. Again, you take to social media to share the news, engage with readers, and impress publishing experts.
As you can see, even if you don't win the top prize, each step of the award journey is an immensely valuable opportunity to increase visibility, expand your audience, impress readers, and stand out to industry experts.
You didn't win first place, but you still received professional recognition as an author, and that's a massive win in its own right. You may also gain new followers, sell more books, and open the doors to even more professional opportunities.
Do you need book reviews and awards to market your book?
Do you need a modern story marketing strategy to market your book? Not necessarily. You can continue using the traditional methods of book marketing without the addition of accolades. Do book awards and reviews make your marketing efforts as impactful as they can possibly be? YES!
In today's publishing world, millions of new books are released every year. With all of the voices competing to be heard, impressive accolades are the extra push your book needs to stand out.
Using the Story Marketing feature to market your book
At Book Award Pro, we've turned the modern strategy of promoting your book through the entire award and review journey into one simple feature: Story Marketing. In just a few simple clicks, you can market your awards and reviews across all of the major social media platforms with posts generated specifically for your book.
Just submitted your book for an award? Sharing the news with your audience is only a couple of clicks away.
Like what you see?

Share with a friend.