Learn how to use Goodreads to grow as an author.
December 28, 2022
Book Award Pro

It's challenging to start using Goodreads for authors, but we're here to make it effortless. Goodreads is designed with readers in mind and is an excellent place for authors to connect with them on a deeper level.
We'll teach you how to get started with Goodreads and use your awards journey to grow your fanbase, engage with readers, and create your community.
Before we get into using Goodreads, make sure you learn how to set up your account correctly.
Properly Setup Your Goodreads Author Account
As an author using Goodreads, there are some important quirks to know. Do not go further without thoroughly reading and understanding this section.
Amazon owns Goodreads. The information you use will link to your Amazon account. This can cause some trouble if you're not careful.
Start by watching this video because if you connect Goodreads with Facebook, Amazon can see who your friends are. This doesn't seem so bad off the bat, but if your friends leave you reviews, Amazon could remove them, stating they're fake. All because they can see your Facebook friends, and they'll claim you asked your friends to leave you reviews.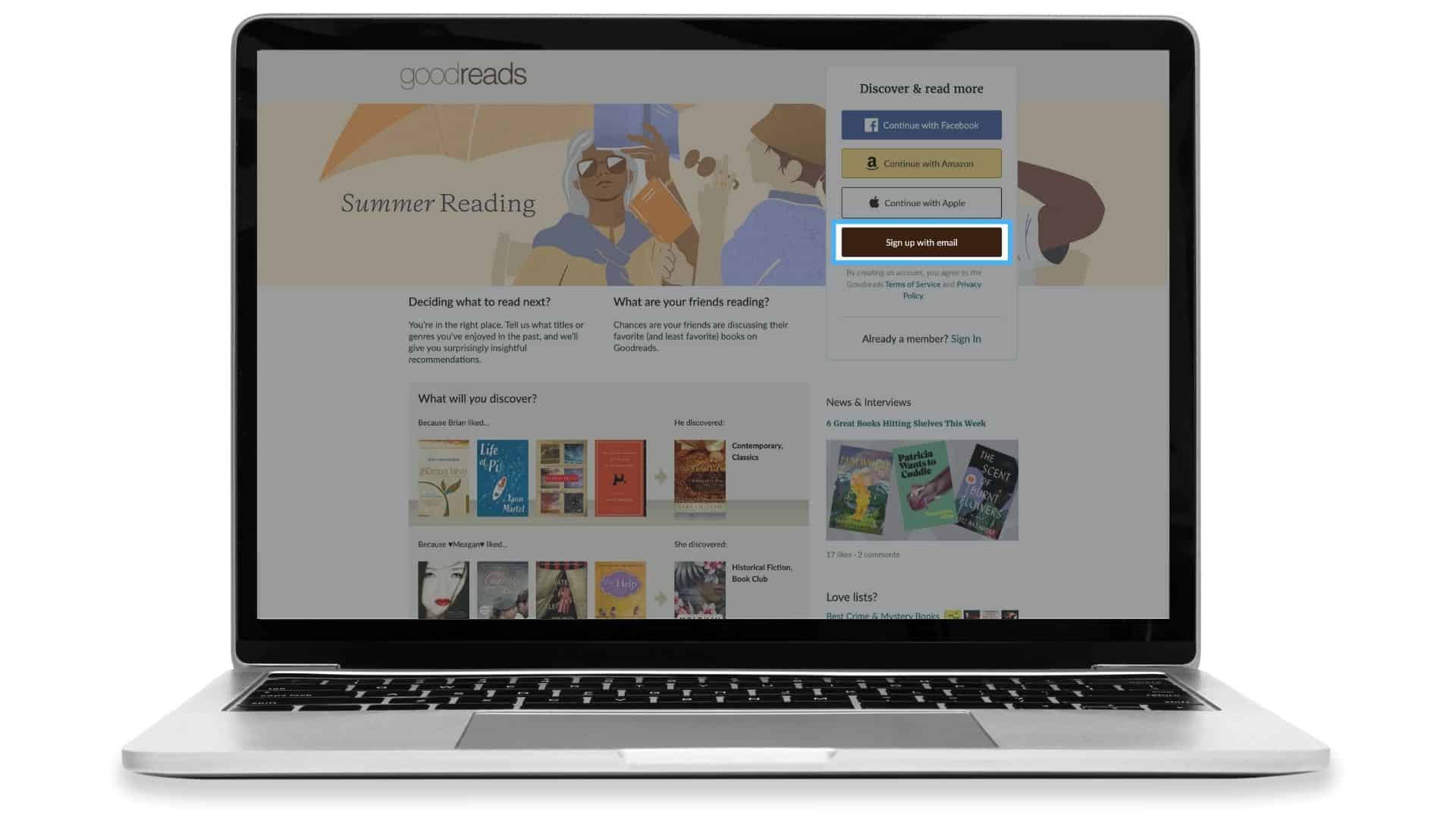 So, use an email to create your account rather than connecting with Facebook, Amazon, or an Apple account. Also, use an email not associated with your Kindle Direct Publishing or Amazon Shopping account.
When creating your account, resist the urge to connect to Google or Facebook. Instead, select "Skip this step" and continue building your account.
As you continue to use Goodreads, it will prompt you to connect with your social accounts. Never do this. If you want to communicate with your friends on Goodreads, search their names and follow them manually, or ask them to send you a link to their profile.
Once you get past this, you're all set, and you can claim your author account to get into the fun Goodreads has to offer.
Claim Your Author Account
When you join Goodreads, you're actually joining as a reader. So, you need to find your book and claim your author profile page to convert your account to an author one. Your book doesn't need to be published, but it must have an ISBN or ASIN for you to claim the account.
Follow the steps Goodreads provides here to claim your author account correctly.
Make Your Author Page Shine
Your author page is where you can express your personality and show readers what makes you unique. Choose a high-quality, square image of yourself that's instantly recognizable by your fans.
Also, update your profile preferences, so your full pen name shows, rather than just your first name. For example, you'll want your name to show as Penny Namer, rather than just Penny. Do the same for your URL.
Take your time writing an author biography that's captivating for your readers. Remember, it's about you, rather than your books, so make sure to include a paragraph or two about who you are.
Were you nominated for any book awards?
What genre do you love to read, or write?
Why did you start writing?
Was there a moment in your life you realized you wanted to write?
This is your chance to make connections with readers so they remember who you are. Be concise, but also be thorough. Your author bio can be updated as you continue to grow, so if you don't have much to say now, we're confident you will soon.
Continue to fill in the rest of your information until your account is finished and ready for people to see.
Start Using Goodreads
Now that your author account is complete, it's time for you to learn how to use Goodreads for authors.
Apply For Book Awards
The best way to have your book discovered on social media is by establishing authority. By applying for book awards, you're showing readers that your stories stand out from the crowd.
You don't have to be a marketer to create fanfare on social media. Book awards do all the hard work for you and give you plenty of fresh news to share about your book. Use the credibility of being an award-winning author, or the excitement of your book's latest award nomination, and gain confidence while sharing about your book.
There are new award opportunities for your book every few days, but don't waste time trying to Google what they are. Instead, sign up with Book Award Pro to see award opportunities that are matched specifically for you and your books.
Goodreads Blogging Feature
Using the Goodreads blog is how you can continuously share news and enticing updates about your book with your fans. If you currently have a blog, use the RSS feed widget to import it into your Goodreads account. This way, you'll always have fresh content, keeping your fans informed and engaged.
If you don't currently have a blog of your own, you could use the Goodreads blogging feature to begin.
Here are some topics you could blog about:
How you got into writing
Updates about your book's awards progress
Stories about your writing career
Setting writing goals
Sharing book reviews
The latest book award you won
No matter what you write about, post consistently, and continue to create compelling content.
Join Discussion Groups
Goodreads discourages joining discussion groups if you plan only to promote your book. These groups are to interact with readers and only discuss the topic at hand. This is not the place for sales pitches, but by participating in discussion groups, it can make readers aware of you and your books.
Enjoy talking with readers about other books, and always stay on topic. There are tons of groups to join, so have fun! Remember, it's a social platform, so explore groups you find interesting and be authentic.
Write Reviews
At its core, Goodreads is for readers to discover new books and discuss books they love. That's why you must find books you've already read and start writing reviews about them. As you continue to read more books, continue to leave reviews.
By participating in the community and leaving in-depth, well-thought-out reviews, you're drawing attention to your profile and, ultimately, your books.
If you're not already, start reading books by authors in your own genres. This way, you can leave a review for them, increasing the chances of your own book being discovered. When a reader finds your review for a book they like, they're more likely to look at your profile and learn you're an author they may enjoy as well.
Book Giveaways
Everyone loves free stuff. If you have a book releasing soon, plan a giveaway to spark interest in your social media page. You're increasing your page's exposure by having people enter into drawings to win your book. It gives you another reason to share something fun with your fans.
By doing these freebies on Goodreads, you'll also gain valuable reviews on your book before it's even launched.
Ask the Author
Use Goodreads' "ask the author" feature to get feedback and make lasting connections with your readers.
"Ask the author" gives your readers the chance to ask anything about you or your book. If you're going to do this, stay on top of the questions and provide answers in a timely fashion.
You can also do an author Q&A by creating a featured author group. This way, your answers are shared in the author section of Goodreads and the group's section, giving you twice as much exposure. Plus, if your question and answer gets the attention of Goodreads, they may share the answers in their following newsletter.
Become Quoted
Your book is full of potential quotes you can share on Goodreads; use them to your advantage. Go to Quotes, then select "Add A Quote" toward the right to start adding your custom quote.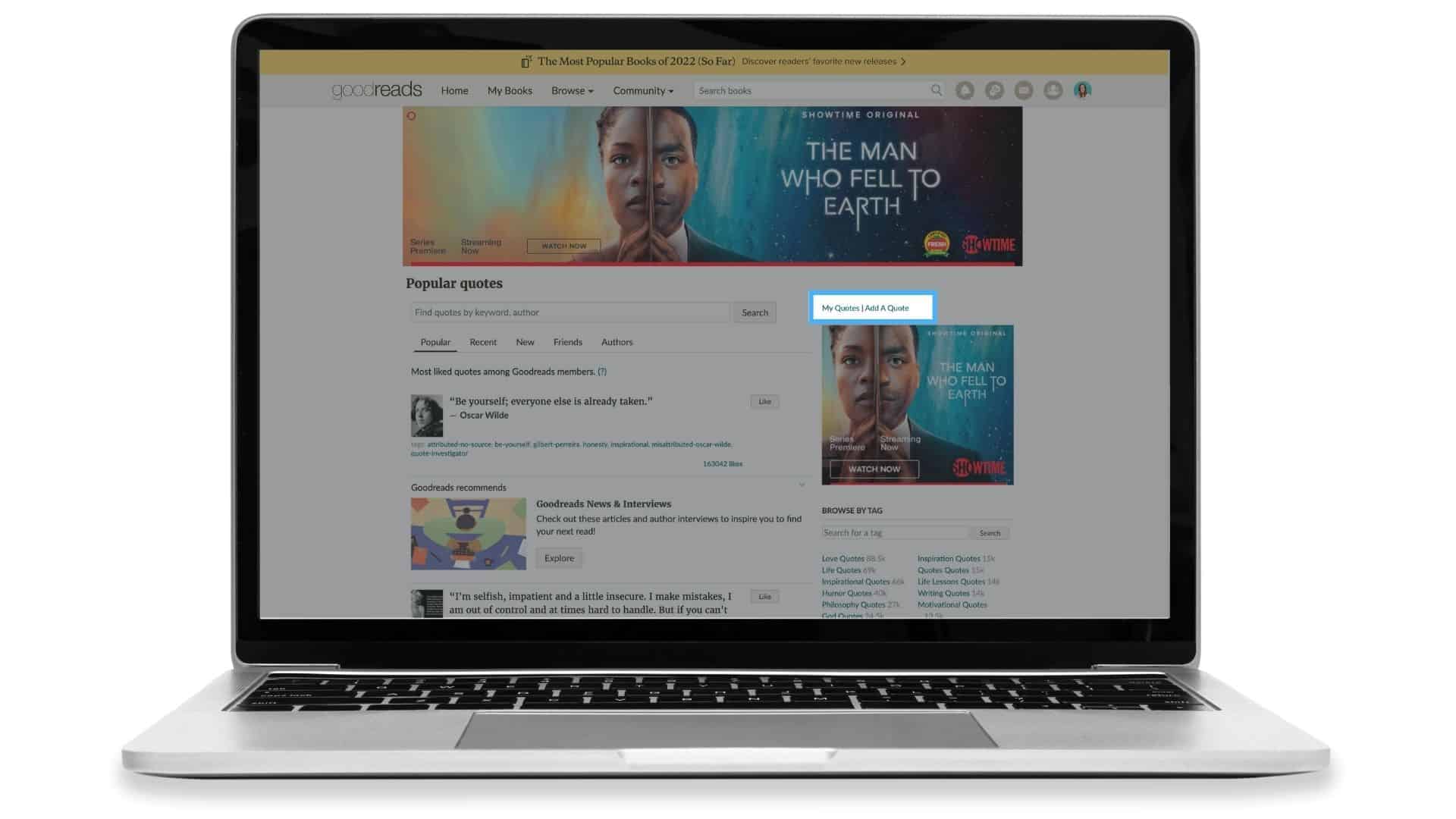 Remember, the quote has to come directly from your book. It can't be from something you wrote in a blog, journal, or social media. Make sure to follow all of the guidelines from Goodreads, and you'll become a quoted author in no time.
Goodreads User Demographics
The average Goodreads user consumes over 50 books a year. The people here are avid book enthusiasts, considering the average American only reads 12 books a year.
These people often have friends ask them for book recommendations. They love to review and talk about their favorite books with others. You want your book to be in that discussion. Every year Goodreads users are trying to read more books than the previous year and can't wait to get into their next story.
Is Goodreads Right for You?
Are you an author?
Any author can and should be active on Goodreads. Unlike other social media platforms, Goodreads is built for readers to interact with authors. It doesn't get more niche than that.
By joining Book Award Pro and connecting with readers on Goodreads, you'll be discovering new fans in no time.
Goodreads for Authors Has Never Been Easier
This may seem daunting, but you can do this. Remember that Goodreads is for authors and readers to make connections over their shared love of books. The more authentic you are, the more likely you are to succeed.
Start small by creating your account and sharing about your book awards journey in your first week. By week two, you can start to review books you like and make your first blog post. As you work in small increments, it'll become easier and more natural to continue growing your audience.
If you're looking for more expert book marketing advice, read our story marketing blog. We consistently post new content and will help you reach your full potential.
Like what you see?

Share with a friend.