Book Award Pro review: SACRED by O'Cyrus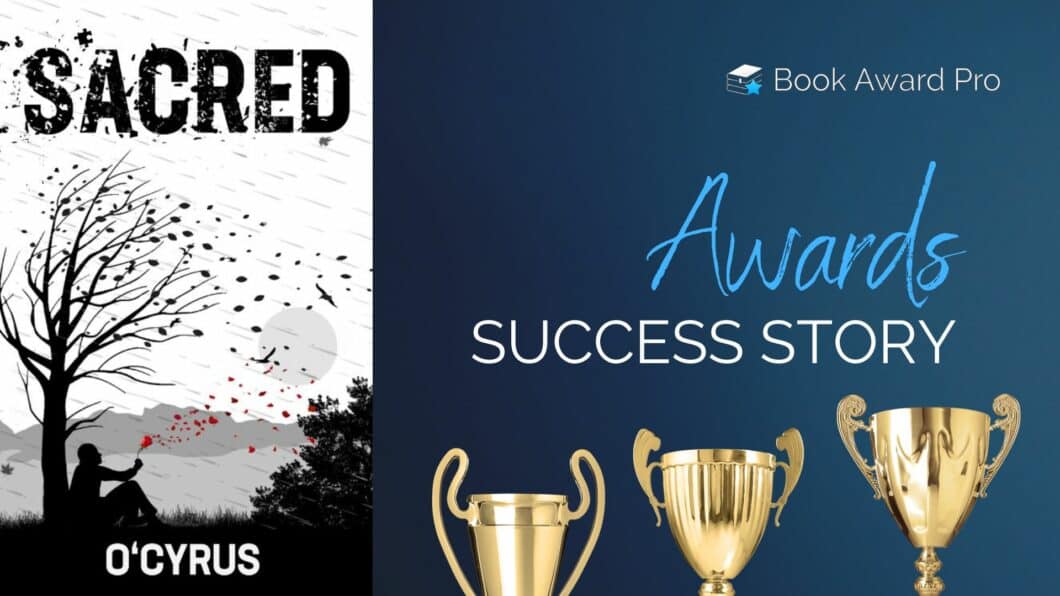 September 7, 2023
Book Award Pro

SACRED, a collection of poetry by Book Award Pro author O'Cyrus, explores the tender themes of what we find most sacred in life. SACRED is also the winner of five book awards and O'Cyrus is a notable emerging voice in the poetry community.
We discussed SACRED's award-winning success with the author himself. Read on to learn how O'Cyrus became a multiple award-winning author in this review of Book Award Pro.
Finding professional validation through awards
There are book awards out there for every book, genre, and author. The trick is singling out the best award opportunities for your book amongst the thousands of accolades.
For emerging independent authors, finding awards that align with their goals is especially important. Awards that bring author visibility, marketing opportunities, and a sense of professional validation are essential to up-and-coming authors. Here's what O'Cyrus had to say about starting his search for book awards:
"My journey with Book Award Pro has been unbelievable. I always believed that my poetry book was powerful and strong enough to win awards, I just didn't know where to look."
Uncertainty about where to begin is a common challenge for authors starting their award journey. No matter your goals as an author, we have plans and features for every book at every stage. O'Cyrus discussed his decision to sign up for a plan that best fit his lifestyle:
"I've got a family: two kids and a wife, and we live a military lifestyle. I'm always looking for ways I can not only save money, but strategically build my writing career. I signed up for a plan that fit my needs and the very same day, I received a list of awards and reviews for which my book was eligible."
Curated award matches in moments
Within moments of signing up, you'll receive curated award and review matches for your book. Plus, our team is here to support and encourage you every step of the way. O'Cyrus said:
"Ever since I began working with the Book Award Pro team, my expectations have been exceeded. Within 12 hours of signing up, I received a notification of several competitions for which my book was eligible. I submitted SACRED to two or three of the awards curated by Book Award Pro."
With Book Award Pro, you can begin building author notability the moment you sign up. Here's what O'Cyrus had to say about receiving professional recognition through awards:
"I was able to receive professional recognition on many levels. Out of the first batch of awards I submitted to, I won first place for things like Best Poetry and Best Writer. This is all thanks to Book Award Pro and I'm so grateful."
Becoming a notable, award-winning author has never been easier
Finding book awards and reviews shouldn't be so hard. By signing up with Book Award Pro, every author has the chance to be celebrated. SACRED has gone on to win five awards in just a few months. O'Cyrus said:
"A few months later, I won five awards thanks to Book Award Pro. Thank you all for your dedication to authors everywhere."
Like O'Cyrus, there's no limit to the amount of awards your book can win. Each accolade your book receives is a step closer to attaining author notability, reaching new audiences, and establishing ongoing interest in your book. With Book Award Pro, you can become an acclaimed, award-winning author in just a few clicks. Plus, you'll receive a new batch of opportunities to win each month.
Inspired by O'Cyrus' story? Check out our plans to start winning awards, getting reviews, and story marketing your book today.
Like what you see?

Share with a friend.