What does a book award do?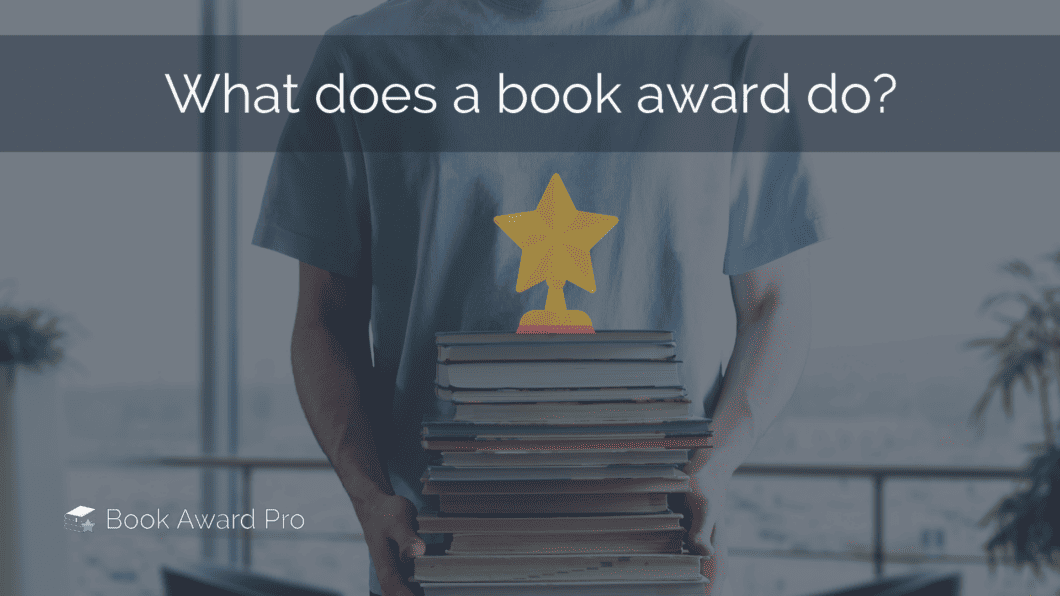 May 30, 2023
Book Award Pro

When authors think of book awards, many picture being propelled to fame after winning a prestigious award. While this certainly is a possibility, the surprising truth is book awards can do so much more.
So, what does a book award do? Is winning a book award what launches your career? Is it the result of success? Or is it something else entirely?
Read on to learn how every book award has the potential to be career-changing for authors of all kinds.
What does a book award do?
Before we get into the specifics of what book awards do, we need to establish their value apart from the various prizes they offer.
The value of book awards becomes apparent when you think about what you can do with a book award, not what it does for you.
If your book gets an award (or even if it doesn't) you can use the process of applying, being nominated, and even learning about the award itself to promote your book, impress your readers, and unlock author notability.
Now, let's talk about some of the specific benefits that come with winning book awards.
The benefits of winning a book award
In addition to impressing readers and helping your book stand out from the crowd, here are some other powerful benefits of book awards:
A meeting with a literary agent
Some organizations offer winners a guaranteed meeting with a literary agent. Agents act as a link between authors and publishers. They focus on finding authors with potential and introducing them to once-in-a-lifetime literary opportunities.
While authors get published without literary agents quite often, they can be very helpful for getting your book in front of the right people.
Winning awards can signal to publishers and other industry professionals that you're putting in the work to succeed. That, combined with your new status as award-winning author, means they're even more likely to offer you a deal.
Access to a professional editor
Many book awards are for pre-published works and help winners add a final level of polish to a promising story. There are many different kinds of editors besides ones who simply fix your typos. A quality editor can take your work from great (you did win a book award, after all) to amazing.
Editors that specialize in story development may find plot holes, pacing issues, or places where characters can be more fleshed out. They can also help you professionally format your work if it's still in the developmental stage. Top editors charge thousands of dollars, so scoring one for free is a pretty big deal.
Professional editorial reviews
Another prize for an award may be assigning a professional reviewer to read, score, and write a valuable review of your work free of charge. Depending on the organization, simply publishing a review of your book on their website may attract new readers. You can also use reviews (and awards) in your story marketing tactics.
Professional reviews are also an important sign of your book's legitimacy. Unlike reader reviews on a sales page, editorial reviews are a deep dive into your story from a respected leader in the industry.
Some reviewers will give your work a score, while others provide a simple written recommendation for improvement. Whether positive or critical, a professional editorial review can be a resource to help you grow as an author.
Interviews on a website or podcast
Appearing as an award-winning guest on a popular blog or podcast can have a big impact on your visibility, credibility, and notability as an author. Plus, you can easily repurpose podcast clips or snippets from a blog as promotional content for your online audience.
Connecting with podcast hosts and bloggers can be a daunting, time-consuming task for busy authors. If your award-winning status gets you in the door and on to a podcaster's calendar, it's a huge boon for your marketing. Winning an award and being instantly connected with this kind of publicity? That's an exciting possibility for any author.
Some book awards give you a publishing option if your book is selected as an award winner. Having your work published could be an amazing opportunity that propels you into long-term author success. With this approach, you could become a published author and an award-winning author all at once!
However, as with any business deal, be sure to read the fine print very carefully on any publishing deal and ensure it's right for you. Consider advances, royalties, and ownership rights. Publishing is the end goal for many authors, but if an award offers to publish your book, you may be able to field other offers as well.
You might be surprised to learn that many book awards offer cash prizes. Most commonly, cash rewards are between $100-$500, but some provide significant sums.
If you win prize money from an award, the smartest thing to do is reinvest it in your book or your writing career. Many authors successfully use story marketing on a small budget. Think what you could do with a few extra dollars to promote your book.
If you want to shoot for the moon, some awards offer lavish prizes that are plain fun to dream about. For example, the PEN Open Book Award has a grand prize of $10,000 and a fully funded artist residency at Civitella Ranieri, located in a 15th century castle in rural Umbria, Italy. Yes, you read that right. You can go live in a castle.
The Bard Fiction Prize awards $30,000 and an appointment as writer in residence at Bard College for one semester, without the expectation that you teach traditional courses. The recipient gives at least one public lecture and meets informally with students.
Every book award can be career-changing
No matter how prestigious or modest the prize for winning an award, every book award can have a meaningful impact on your author career. The most valuable aspect of book awards comes when you leverage every stage of the awards journey to impress your readers, engage with your audience, and promote your book.
When it comes to determining which awards to enter, remember, there's a book award out there for every author. Out of thousands of awards, Book Award Pro can help you find the most fitting opportunities for your book.
Like what you see?

Share with a friend.