Book Award Pro review: Frederick Douglass Reynolds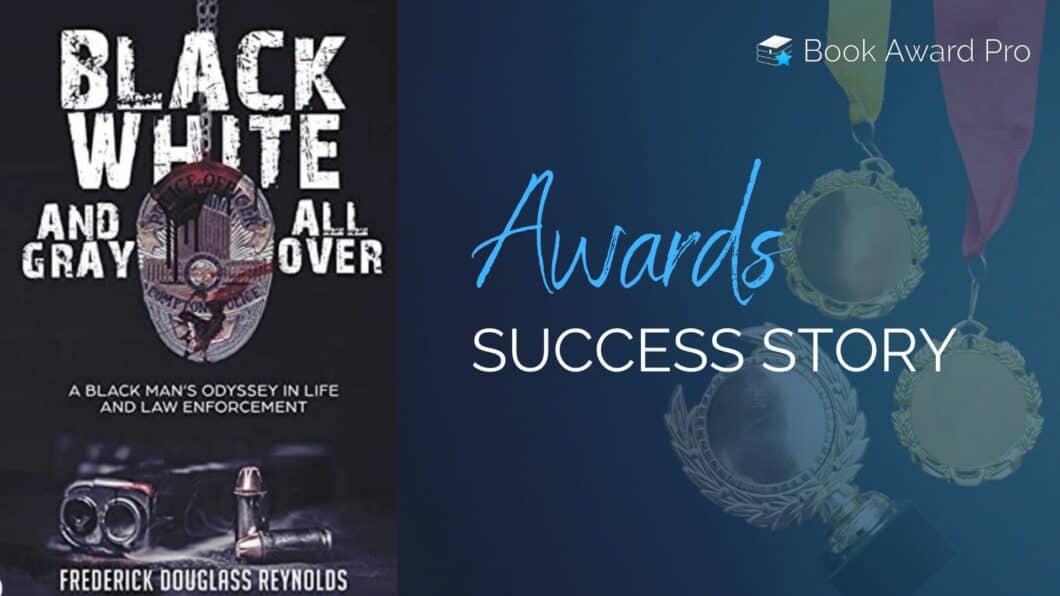 October 18, 2023
Book Award Pro

Black, White, and Gray All Over by Book Award Pro author Frederick Douglass Reynolds is more than just "cop stories." Reynolds offers an honest, firsthand account of 1980s Compton. He boldly shares his perspective on gang violence, the crack epidemic, and rampant government corruption as a black man who found himself on both sides of the law.
Black, White, and Gray All Over has gone on to become one of the most awarded independently published books in its genre. It's also received dozens of glowing reviews from some of today's most respected experts in literature and is available at Target, Amazon, and Barnes & Noble.
In his Book Award Pro review, Reynolds discusses the massive success of Black, White, and Gray All Over and how curated awards, reviews, and story marketing helped him unlock author acclaim.
Legitimate awards and reviews for your book
The complexity of today's expansive award and review landscape is a common challenge for authors of all kinds. Even highly esteemed authors like Frederick Douglass Reynolds face the formidable size of the task. Here's what Reynolds had to say about the difficulty of finding awards before using Book Award Pro:
Apart from the tedium and frustration, Reynolds brings up an all-too-common worry among authors: illegitimate book awards. While book award scams are extremely rare, it's yet another factor for busy authors to consider.
Book Award Pro operates the world's largest database of legitimate book reviews and awards. There's no tedious research or hours spent sorting through lists. You can rest assured you'll only be matched with legitimate, valuable accolades for your book.
Acclaim among readers as an independent author
Black, White, and Gray All Over has won an astonishing amount of acclaim. When asked about the number of awards Reynolds has won with Book Award Pro, he said:
With Book Award Pro technology, there's no shortage of ways to become an award-winning author. Immediately after signing up, you'll regularly receive freshly curated options for awards and reviews. That's a weekly chance for author acclaim delivered straight into one easy-to-use platform.
Being matched with your perfect awards and reviews is an important first step. However, the secret to unlocking author notability is what you do with your award and review journey.
With story marketing, each step toward winning an award or receiving a review is an engaging piece of marketing content. For an independent author like Frederick Douglass Reynolds, the Story Marketing feature made promoting his book on social media easier and more effective than ever before. He said:
Career-changing opportunities with Book Award Pro
Between awards and reviews expertly curated by AI and an easy way to instantly share story marketing content, the possibilities with Book Award Pro are endless.
Through his Book Award Pro journey, Frederick Douglass Reynolds has achieved impressive author notability. Here's what he had to say about one of the many career-changing opportunities he received through Book Award Pro:
A combined total of 38 awards, dozens of glowing and five-star reviews, and a cover feature from a leading art and literature magazine. Black, White, and Gray All Over is the embodiment of the power of Book Award Pro.
We couldn't be more thrilled about Reynolds' literary success, and we're honored to continue supporting his award, review, and story marketing journey.
With Book Award Pro, you could be the next celebrated, award-winning author in your genre. Simply sign up for the plan that's right for you, tell us a bit about your book, and instantly receive your first batch of perfectly curated awards and reviews.
Like what you see?

Share with a friend.