What is a book prize and how can you win one?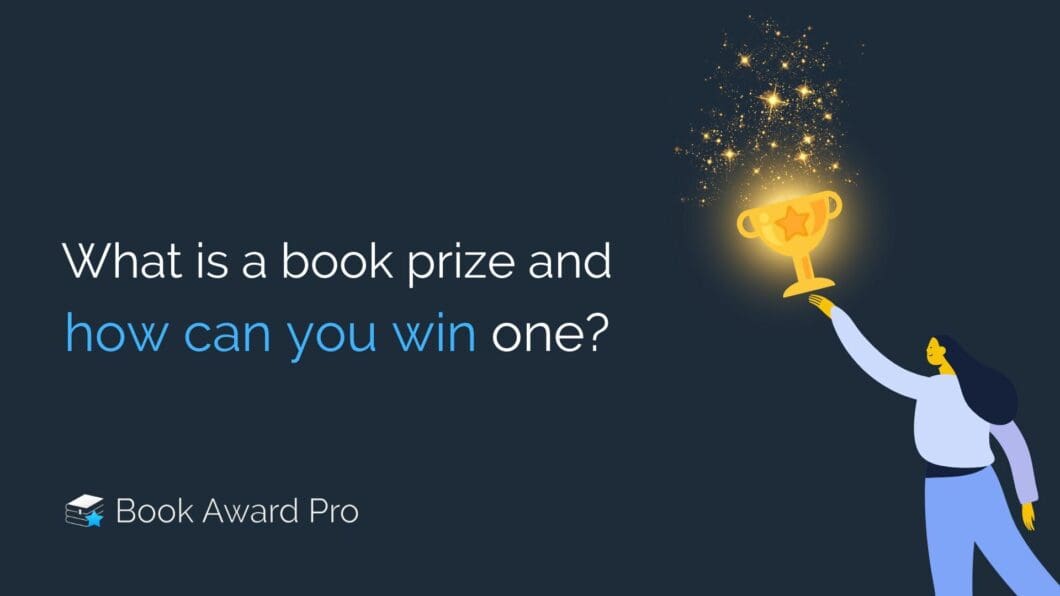 November 1, 2023
Book Award Pro

In the vast world of literature, standing out is no easy feat. Authors, both budding and seasoned, often seek recognition and acclaim to elevate their work and author brand.
One of the most effective ways to achieve this is through book prizes and awards. In this post, we'll delve into what book prizes are, how you can use Book Award Pro to discover the perfect award matches for your book, and how the entire journey can establish credibility and esteem for your author brand.
Book prizes, also known as book awards, are esteemed accolades bestowed upon authors to honor their literary achievements. They recognize outstanding works in various categories, such as fiction, non-fiction, genre-specific literature, and more.
Winning a book award not only celebrates your creativity and dedication but also serves as a stamp of quality that can significantly boost your book's reputation of credibility and acclaim.
While the benefits of pursuing book awards span far and wide, their real value lies in what you do with your entire journey.
Finding book prizes with Book Award Pro
Book Award Pro simplifies the daunting task of finding the ideal book prizes for your work.
Our AI technology analyzes your book's unique characteristics, including its genre, themes, and writing style. Book Award Pro matches your book with awards that align perfectly with its unique attributes. Focusing on your book's ideal opportunities increases your chances of winning and saves you the time and hassle of doing everything manually.
In addition to book prizes, Book Award Pro also ensures your book finds its ideal book review options. With the same matching algorithm used to pinpoint your perfect awards, Book Award Pro curates reviews that align seamlessly with your book's unique attributes.
Whether you're looking for awards or reviews (or both!), Book Award Pro ensures your book connects with the most fitting accolades.  Our platform gives you options that resonate within a specific genre or ones that cater to a particular readership, enhancing your book's recognition and appeal to potential readers.
How can you win a book prize?
The professional way to win a book prize
Most authors get frustrated sifting through outdated lists of book prizes, and it's no wonder. With the endless tasks that you need to accomplish for your book business, who has the time for digging, sorting, and tireless research?
Winning a book prize involves a process, and Book Award Pro is the world's leading expert. You'll save hours of your time and trust the expert way to get prize-winning recognition for your work.
Our AI technology curates the ideal book prizes and reviews for your book. If you want the experts to handle even more of the process for you, Book Award Pro can also fully manage your submissions.
By regularly entering curated book prizes that are a good fit for your book, you drastically increase the likelihood that you can win a book prize. That's why thousands of authors around the world trust us with their award-winning success every day.
The DIY way to win a book prize
Before they discovered Book Award Pro, many of our authors were all too familiar with the tedious process of finding, researching, and submitting to book prizes.
If you want to do everything yourself without using our powerful AI technology, it's important to do lots of research and streamline your own process.
There are thousands of book prizes out there, and they won't all be a good fit for your book. Be sure to only invest your time and resources into prizes that help your book grow and succeed.
Most book prizes will have specific guidelines and restrictions to narrow down the particular types of books they want to see submitted for consideration. Ensure your book meets all of those requirements before submitting, or you'll be throwing money down the drain with misaligned entries.
Once you've made it through the initial submission process, be sure to follow updates about the prize timeline. Managing your entry to the end means that you'll always know the outcome of every submission you perform. Did you win the book prize, or should you move on to other opportunities?
Win more with Extra Awards
The Extra Awards feature allows you to achieve acclaim beyond the content of your book.
While many typical book prizes focus on the literary content itself, Extra Awards widens the landscape. Our AI matching technology will uncover award options that include various elements contributing to a book's overall excellence.
With Extra Awards, you will see accolades that recognize exceptional editing, cover design, audiobook production, illustrations, and more.
For instance, you may have a brilliantly written book, but it's the meticulous editing that enhances its readability. By using the Extra Awards feature, you can pinpoint book prizes specifically dedicated to celebrating outstanding editing work. Similarly, if a book's cover design is a work of art in itself, Extra Awards can direct authors to awards that recognize artistic excellence.
By utilizing Extra Awards, you can amplify your recognition, establish yourself as a holistically acclaimed author, and garner additional prestige and credibility for your author brand. Extra Awards allows you to win beyond your book's content, acknowledging the comprehensive effort that goes into creating a remarkable book.
Book prizes add notability to your name
Book prizes not only bring recognition but also help establish credibility and esteem for your author brand. They demonstrate your commitment to excellence in your craft and enhance your reputation as a notable author. Also, awards can be powerful marketing tools, attracting publishers, literary agents, and a dedicated readership.
You can elevate your author brand by infusing strategic placement of your award-winning status. Incorporating accolades into your author bio, email signature, and the cover of your book instantly communicates your credibility and expertise to readers, literary agents, and publishers.
Your accolades serve as powerful endorsements, making your book more enticing and trustworthy. Readers are naturally drawn to books and authors with a track record of professional recognition. Adding awards to your entire author brand is a simple yet highly effective way to leave a lasting impression and establish yourself as an acclaimed author.
Stirring reader interest with story marketing
The Story Marketing feature from Book Award Pro is a strategy-boosting tool for authors seeking to engage with the vast world of readers online. It automates the daunting process of creating social media content by automatically generating customized images and captions about your book's award and review journey.
With a few simple clicks, you can transform the milestones and recognition you've achieved into captivating narratives that resonate with your followers.
Story Marketing doesn't just streamline your social media presence; it transforms your author journey into a dynamic, ongoing story that keeps your readers engaged and invested in your success. It's a powerful tool for connecting with your audience, building your author brand, and leveraging your accolades to garner even more recognition and acclaim.
With Story Marketing, you're not just sharing your journey; you're creating an inspiring narrative that captures the attention of your readers, solidifying your position as a celebrated author.
Sign up for free, or get more with our paid plans.
Book Award Pro: Win awards, get reviews
Book prizes and reviews are a gateway to literary recognition and credibility.
With Book Award Pro, you can streamline the process of finding the perfect award matches for your book, elevating your author brand and solidifying your place in the literary world. Then, with features like Extra Awards and Story Marketing, you can make the most of your journey toward author acclaim.
Take the first step towards author notability with Book Award Pro. Signing up is quick and easy. Simply tell us a bit about your book and immediately receive your first batch of expertly curated options for awards and reviews.
Like what you see?

Share with a friend.