How to get a book review (and why they're important)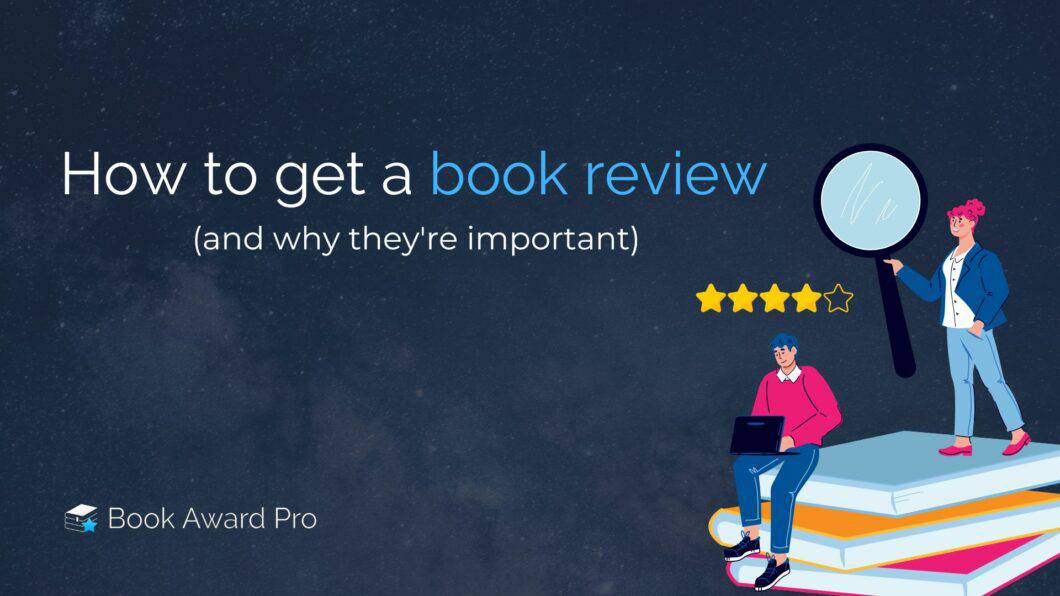 September 7, 2023
Book Award Pro

Each author accolade added to your collection is a chance to claim the professional recognition and notability you deserve. Book reviews are one of the most accurate measures of your book's success. They inform your future writing decisions, signal your potential to industry experts, and bring major value to buyers considering your book.
Read on to learn just how important reviews are for author success and how to get a book review.
Why are book reviews important?
They increase author recognition
The more buzz and interest you can create around your book, the more likely you'll maintain long-term benefits. You worked hard on your book and you deserve to enjoy the fruits of your labors. That could mean increasing your book's visibility, receiving professional acknowledgment, or selling more books.
We know that success means different things to different authors. No matter your unique goals, receiving the professional recognition you deserve can bring fulfillment, confidence, and a sense of pride.
If selling more books is your idea of author success, book reviews should be at the top of your priority list. More so than any other accolade, reviews drive book sales through their ability to bring value to your readers and inform buying decisions.
Book reviews tell buyers which books they're most likely to enjoy and which books have a track record of reader satisfaction. If a reader is debating between two books of the same genre, and only one has reviews, they're much more likely to add the book with proof, validation, and positive feedback to their cart.
They earn the respect of literary experts
For authors with dreams of future publishing deals and literary opportunities, book reviews are essential to earning the respect of industry experts. When considering authors with which to work, publishers, literary agents, and book marketers often assess the following:
Your book's selling potential
Your previous efforts to market your book
How well your book was received among readers
Book reviews have the power to endorse all three of these factors to industry decision-makers. Positive reviews indicate impressive selling potential and a warm welcome from readers, while reviews from reputable professional sources are a sign of your determination to market your book successfully.
They fuel your story marketing
At Book Award Pro, we encourage authors to take advantage of modern tools, accolades, and simple processes to market their books. Story marketing, a strategy of continuous engagement with your readership on social media, is the most effective, hassle-free way to promote your book.
Each review your book receives is an opportunity to connect with your audience. Even if you're just considering submitting to a book review, you can share this exciting news with your readers to boost engagement, stir interest, and reach new audiences.
If you're feeling unsure about how to get a book review, here are some simple steps you can take:
Encourage readers to leave a review online
Satisfied readers of your book are the first place to look for reviews. It can be as simple as asking your readers to leave a review on your book's online retailer, requesting reviews on social media, or including a prompt for reviews at the end of your book.
If your book has an Amazon or online listing, it's likely you already have customer reviews of which you can take advantage. Take the most impressive reviews from your listing and include them on your book's cover, on your social media accounts, on your author website, and Goodreads.
Reach out to book bloggers
Book bloggers use their online presence to write professional book reviews. Reaching out to book bloggers is a great way to not only get a review but to position your book in front of new audiences as well.
When seeking out a blogger to review your book, try to take note of the types of genres they favor. This can help you narrow down your search, focus your efforts, and reach out to bloggers who are most likely to agree to review your book. Most have easy-to-find contact information or submission instructions on their websites.
Take negative reviews with a grain of salt
Book reviews are subjective by nature. Opinions, tastes, and personal preferences all contribute to how each individual reader perceives your book. If your book receives a less-than-glowing review, don't panic! Even negative reviews can provide valuable feedback and marketing opportunities.
Much like you don't need to win a book award to benefit from its value, you don't need to receive perfect reviews in order to fine-tune your craft, share your experience with readers through story marketing, and grow as an author.
Pursue professional reviews
Book reviews typically fall into two categories: reader reviews and professional reviews. Professional reviews often require a submission fee and come from a reputable source in the industry, like Kirkus or Clarion Review. You might also receive a professional review as a bonus benefit from entering or winning a book award contest.
On the contrary, paying for reader reviews might be seen as dishonest to literary professionals. It's important to have a combination of both types of reviews, but make sure you pursue genuine and honest reviews from the sources we've outlined above.
Easily find curated reviews with Book Award Pro
Signing up for a Free plan with Book Award Pro is the fastest, simplest, and most effective way to find professional review opportunities that perfectly align with the unique qualities of your book.
The reviews in our database are vetted for legitimacy, so you don't need to worry about scouring the Internet for genuine, valuable opportunities. Simply sign up, tell us about your book, and unlock access to customized reviews.
Like what you see?

Share with a friend.