The Free plan: Get reviews and awards for books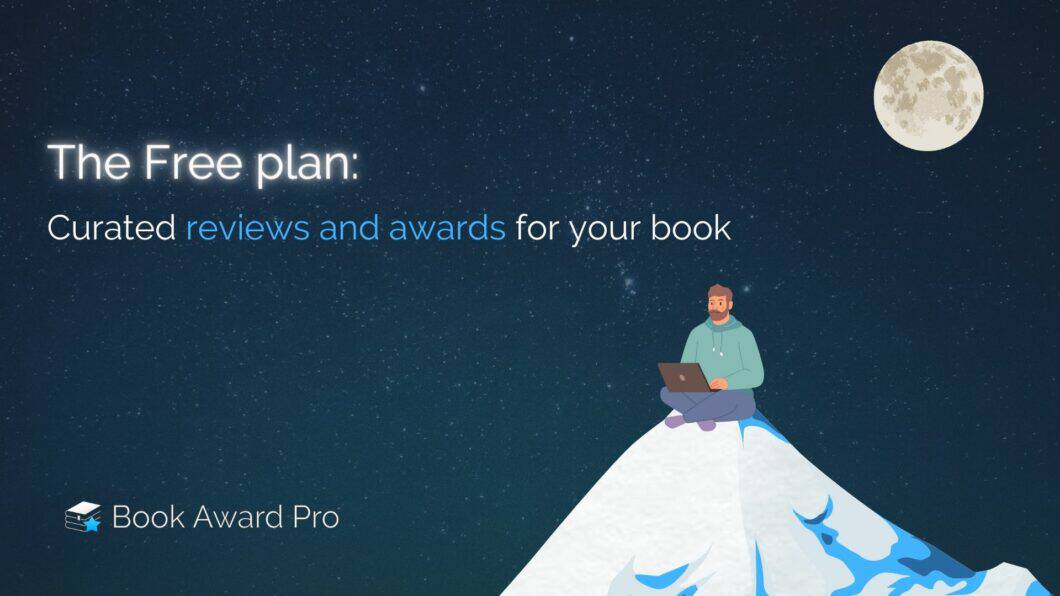 September 2, 2023
Book Award Pro

If you're starting your journey of finding reviews and awards for books, you're in the right place. If you're already confused and frustrated by some of the low-quality lists out there, welcome to the last resource you'll ever need.
The problem with researching book reviews and awards is that no generic list can accurately match accolades to the unique qualities of your book. Plus, these lists are often outdated and include irrelevant, missing, or inaccurate data about awards and reviews.
Say hello to the Free plan from Book Award Pro: the author-friendly platform that perfectly matches your book to the right awards and reviews in just a few clicks.
The Free plan: Get review and award options for your book
Information like genre, publication date and type, word count, and your own unique author goals all contribute to finding the perfect awards for your book. The Free plan from Book Award Pro uses these characteristics, along with millions of other data points, to expertly pair your book with its ideal awards and reviews.
Our algorithm considers every possible accolade opportunity, presenting you only with the very best reviews and awards for your book.
Here's why Book Award Pro is the best way to find reviews and awards for books:
You're only matched with accolades you can receive right now
When you sign up, you'll be immediately matched with awards and reviews custom-tailored to your book. This means all the research is done, ensuring only legitimate opportunities for which your book is eligible.
You only see reviews and awards for which you can apply right now. Once the window to submit to a particular accolade has passed, the opportunity leaves your list of Matches. As new submission windows open and we add more accolades to our ever-growing database, fresh Award and Review Matches are continually added to your account.
We'll give you everything you need to take the next step
On the Free plan, you'll gain access to curated accolades that are just right for your book. From there, you can learn more about your Award and Review Matches to decide which you'd like to pursue. The Free plan gives you the perfect foundation on which to start your journey, with critical information like the name of the award or review, category, and due date. We also provide a link to the accolade's website, where you can learn more details.
For all the information you need at a glance, consider upgrading to the Essentials plan. The most affordable of our paid plans includes the Expert Research feature: a comprehensive overview of the important details you need to make the best award or review decision for your book. Expert Research gives you instant access to additional data like entry fees, estimated announcement dates, a detailed description of the accolade, and plenty more.
Legitimate reviews and awards for books
Book award and review scams are extremely rare, but they do exist. Luckily, we vet every single accolade in our database. You're protected against scams and fraud; every match you receive is researched by Book Award Pro - the world's leading expert on book awards and reviews.
No more wasted time and tiresome research
Not only will we show you curated accolades for which your book is eligible right now, but we'll always show you the most relevant opportunities based on your book's unique qualities. This eliminates the long hours of research, endless sorting, and frustrating cross-checking that so many authors face.
We've established that the Free plan from Book Award Pro can help you discover the most relevant accolades for your book. What about finding awards and reviews that are most valuable? For authors looking to take the guesswork out of deciding which accolade offers the most value for their book, there's the Targeting feature available on the Plus and Pro plans.
Targeting determines which single award or review is the most valuable and which your book is most likely to win or receive. By pinpointing exactly which reviews and awards create the best results for your book, this laser-focused advantage allows you to feel completely confident in the accolades you choose to pursue.
Professional submissions, automatically
Finding awards and reviews is only the beginning of the journey. Once you find an accolade to pursue, it's time to prepare your book for submission.
Entry requirements vary greatly between accolades, so it's important to fully understand what you'll need for each. At Book Award Pro, we continually provide resources to help our authors submit their books to awards and reviews in the most professional, ideally positioned way possible.
To make the process even simpler, Book Award Pro authors on all plans have the option to completely automate their submissions by purchasing one of our Boosts. With the purchase of a Boost, we'll confirm requirements, take care of your documents, prepare your book for submission, and flawlessly present your book to judges. Plus, we'll manage and track each submission for you all the way to the finish line.
Book Award Pro: Your greatest chances of winning
Book Award Pro technology is proven to increase your chances of winning awards and getting positive reviews. Without Book Award Pro, book award win rates are less than 9%. Authors using our Pro plan have a 68% average win rate!
On all the Book Award Pro plans, your chances of becoming an esteemed author with an impressive collection of awards and reviews are greatly increased. We give you all the resources you need to find the perfect opportunities for your book, determine which accolades are most valuable, and prepare your book for successful submissions.
The best part? We make it so simple, it only takes a few minutes to get started. Sign up for the Free plan and we'll find curated reviews and awards for your book in just a few clicks.
Like what you see?

Share with a friend.