The Essentials plan: Become an acclaimed book award winner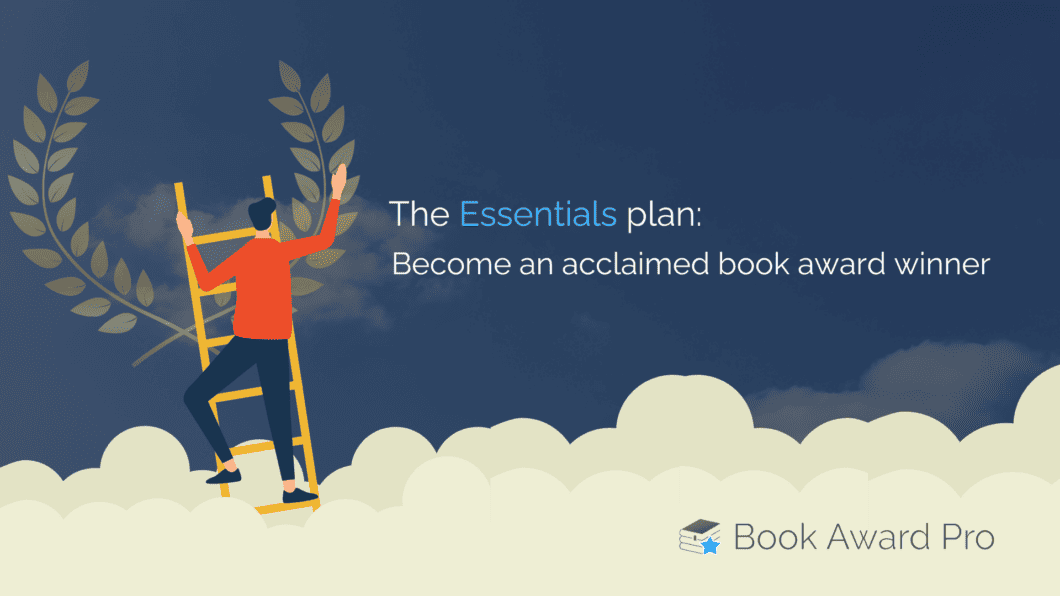 September 20, 2023
Book Award Pro

Imagine: you're a book award winner. You're recognized as an acclaimed, award-winning author with accolades that validate the excellence of your book. You can proudly proclaim to readers and industry experts alike that you wrote an award-winning book.
It's an enticing dream, but one that many authors feel is out of reach. Where do you find the right book awards and reviews? How do you intrigue readers with your success? Can you effectively promote yourself as an award-winning author without becoming a full-time marketer?
The truth is, that seemingly lofty dream of author acclaim is well within your reach. The Essentials plan from Book Award Pro combines perfectly curated awards and reviews with Expert Research and Story Marketing to make becoming a book award winner, receiving professional recognition, and expanding your audience more attainable than ever before.
Become a book award winner with curated awards and reviews
Of the thousands of accolade opportunities available to authors today, finding the right awards and reviews for your book can feel impossible. Understandably so, traditional methods include long hours of research, frustrating lists, and endlessly sorting through eligibility requirements.
You don't need to spend hours of research or rely on guesswork to find legitimate, valuable reviews and awards for your book. Instead, Book Award Pro will instantly present opportunities that are a perfect fit for your book, so you can get back to doing what you do best: writing your next award-winning book.
Immediately after signing up with the Essentials plan, you'll receive your first batch of curated Book Award and Review Matches. These accolades are thoroughly vetted, curated by our technology, and clearly presented in one easy-to-use platform.
But, it doesn't end there. Matching is an ongoing process, so you'll receive new opportunities to achieve author acclaim each week.
Instant details about your path to author acclaim
Now that you've identified awards and reviews for which your book is eligible, how do you decide which are most likely to propel you to author acclaim? Considerations like budget, timeframe, and value are all crucial to making an award or review decision that's best for your book.
You can take on the complex task of gathering and comparing intricate details about accolades, or you can let Book Award Pro handle it for you.
Included in the Essentials plan is the Expert Research feature: everything you need to know about your Award and Review Matches in one place. Empowered with instant details about your Matches, you can strategically pursue the options that perfectly align with your author goals. We believe the saying goes, "Work smarter, not harder."
An audience of devoted readers at your fingertips
Speaking of smarter, say hello to story marketing: an innovative solution to book marketing fueled by awards and reviews. With story marketing, each step you take toward becoming a notable, award-winning author is a compelling piece of marketing content you can use to stir interest in your book.
Building an audience of loyal readers is a sizeable feat for established and debut authors alike. Legacy marketing tools fall short of the task, creating frustration, unnecessary costs, and lackluster results. At Book Award Pro, we believe authors deserve an easier, more effective way to market their books and achieve author acclaim.
That's why we created the Story Marketing feature, which allows you to share compelling book marketing content with your social media followers in just a few clicks. The posts are custom-generated for your book, complete with engaging images and interest-piquing captions.
With Story Marketing, you don't need to become a marketer, spend hours designing content, or pay a fortune for professional marketing services. Any author, with any budget and schedule, can captivate readers through story marketing right now.
Your dreams of author acclaim are closer than you think
Remember that dream of becoming a celebrated, award-winning author? With Book Award Pro, it's so much closer than you think.
The Essentials plan from Book Award Pro is an author-friendly, cost-effective way to achieve author notability. With the powerful combination of curated awards and reviews, the detailed information you need at a glance, and an automated way to build an audience of excited readers, there's no limit to your book's potential.
Like what you see?

Share with a friend.