Why story marketing is easier with book awards and reviews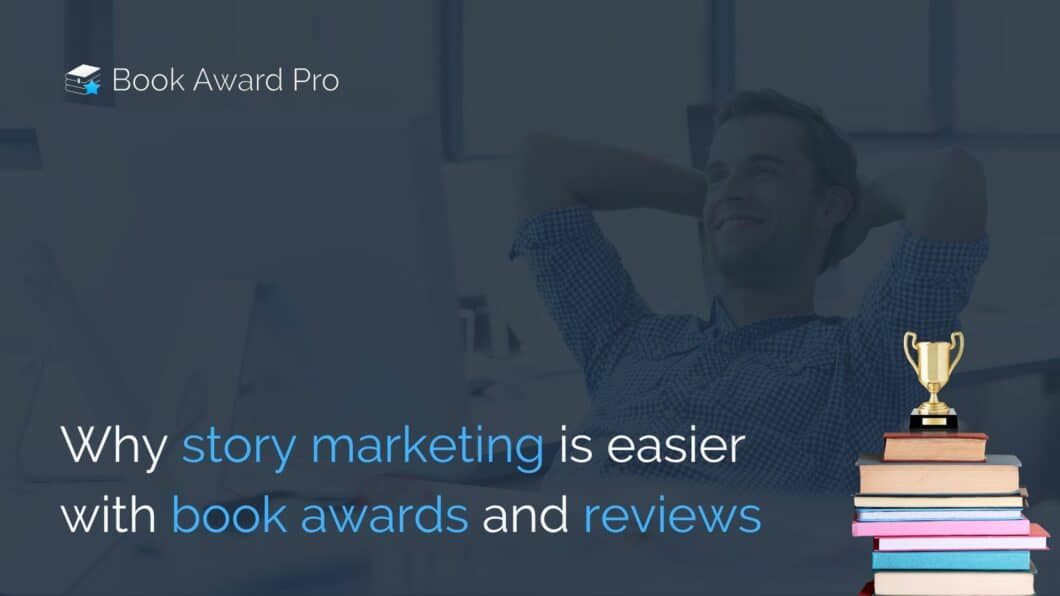 June 26, 2023
Book Award Pro

Story marketing is a modern, ultra-effective approach to book marketing. It focuses on nurturing authentic, lasting connections with readers through technology.
The simplest, most impactful way to build a story marketing strategy is through author accolades. Read on to learn why story marketing is easier with book awards and reviews.
They give you something to talk about
When you pursue book reviews and awards, it provides you with exciting content to share with your readers. Every step of the journey, from considering awards, to submitting your book for a review, to winning the grand prize, is a powerful piece of marketable content. Even if you don't win an award, you'll still reap the benefits of engaging with your readers and reaching new audiences.
The easiest, most cost-effective way to engage with your audience through story marketing? Social media. Not only are there millions of users on Instagram, Facebook, Twitter, LinkedIn, TikTok, and Goodreads, but these are free platforms with which you're already familiar.
They add authority to your name
Receiving accolades adds credibility to prove you're a notable, well-respected author. As soon as you win a book award or receive a review, you'll be forever branded as an acclaimed, award-winning author. 
You can add your impressive status to everything involved in your author brand, like your email signature, bio, and online book listing.
They prove the quality of your work
Thanks to the modern self-publishing revolution, almost anyone can become a published author (with plenty of hard work, of course). And that's a wonderful thing! However, this does pose a challenge to new authors.
The truth is, readers can be weary about trusting a new author without having some type of quality guarantee. How do you prove the quality of your book? Professional reviews, reader reviews, and book awards of all kinds signal to potential buyers that yes, your book is worth reading.
They provide credible referrals
Author accolades are referrals from a credible source that endorse the excellence of your book. It's tough to ask a skeptical reader to trust the quality of your book based on your words alone.
People are much more likely to try a new book if it's backed by positive reviews and awards from authentic readers and literary professionals.
With millions of books published every year, authors may find it difficult to rise above the crowd. On top of that, there are thousands, if not hundreds of thousands of authors trying to market their books online.
The magic of accolades is in their ability to bring attention to your book and differentiate you from other authors. Many authors market their books online without the impressive backing of book reviews and awards. Including them in your story marketing can help you stand out among the masses.
They open the door to new audiences
On top of becoming an esteemed author, some accolades offer bonus benefits. These range from interviews, sales links, free advertising, and other valuable resources.
When reviews or awards start promoting your book, it's opening the door for more readers and media outlets to take notice. For example, there's an award in our database that offers winners personalized Tweets to their audience of over 60,000 people. That's 60,000 more people that could potentially join your story marketing journey.
It's hard to add this type of exposure to your story marketing without pursuing author accolades. At Book Award Pro, we don't just connect you with the right award or review opportunity. Our technology works hard to make sure the accolades we're connecting you with are more likely to offer bonus benefits.
Simplify your story marketing with Book Award Pro
With the Story Marketing feature from Book Award Pro, it's never been easier to create authentic, sales-boosting connections with your readers.
In just a few clicks, you can share customized posts about your award and review journey across all of your social media accounts. Reach new audiences, impress readers, and streamline your book marketing strategy in one simple, hassle-free platform.
Like what you see?

Share with a friend.